THE ARCHIVES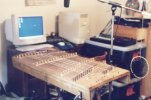 This section is an archive of yearly "tour journals", created from my log entries, journals, newsreports and other writings, starting in 1997.
This is both a history and the ongoing story of my annual travels and happenings. It is also an information resource as I am including other files that I created as part of the events, like the details of setting up a pc based digital recording studio (DAW). I am trying to keep it on-going. I wish I could tell you all that had gone on in the years before this, but you'll just have to read what's here and use your imagination for the rest. Though it seems like life has slowed down a bit, well, its been a long road. Maybe one day I'll try going backwards.. or maybe I'll go for broke and just start at the beginning. People keep telling me I should write a book, well, consider this a few chapters in the middle somewhere.

---
1997

This initial effort at a tour journal is pretty brief and dry, not like the later journals, but it was a start. In it, I made the trip to Alaska again, flying instead of driving. I performed at only one State Fair, and spent the majority of my time mining gold in the Brooks range of Alaska. The important event, and the reason I wrote this , is that I finally completed the final full-size "millenium" edition of the Electric Dulcimer that I had been working towards for so many years.

---
1998

The big event this year was a return trip to Alaska
I flew up again, performing at two State Fairs and many other places around Alaska
a special tour for the gold rush centennial
as well as building two new acoustic dulcimers.

1998: Alaska
Journal Entries 9/98: The Alaska State Fair

---
1999

In the Spring and Summer of this year I took a Rave, small hydrofoil Trimaran,
across the Gulf of Mexico from Florida to the Yucatan Coast and then south to Belize.


1999: Further Passage
Log 9/99
Introduction to the Captain's Log
The Captain's Log
Two charts, one of the Gulf passage and one of the coastal passage
Basic Diagram of the Windrider Rave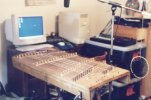 In the remaining months of 1999 I built a Digital Audio Workstation. I had a hard time tracking down the information I wanted, so I started collecting it and redistributing it to people starting out like me with questions about how to buy and set up a DAW.
The DAW Report
is the detailed story of my DAW purchase, with just what I bought, where, and how much; and to a certain extent, why. There are a lot of links to sources of information and gear, though some may no longer be good, most are!
I added an update to The DAW Report in 2002 to detail what changes I made, what changes I am planning on making to complete the set-up, and what changes I may make in the future.

---
2000


I usually update the NEWS page every three months, but missed the July update in my hurry to get out of town. Here is the New Year's and the Spring2000 news updates, then the complete 2000 Tour Journal, AK2K. It was quite a year, as I add broadcast quality video gear to my equipment and use it to make a video tour journal, while generally starting to document the life as I make the regular circuit up and around Alaska.

New Year's report
Spring Report
Tour 2000: AK2K

---
2001


I return to Alaska, this time making more stops in Canada
At the North Country Fair, I openned a door for the golden girl,
but she couldn't go through it, so it goes

I walked in the clouds alone, and it was another round through the extreme routine,
or the routine extremes?

---
2002


I make a whirlwind trip around the entire circuit. I spend the Winter and Spring in Florida. I pilot a friend's boat to Belize again, then I return to my boats and leave the Keys behind for good, cruising up to central Florida to leave Dueodde, the steelboat, in a dry-storage yard and the Hurley anchored near Stuart on the east coast of Florida.
I arrive in Virginia at the beginning of Summer, I spend a few weeks, and when flight plans fall though, buy a van and head for Alaska again. I make the return trip to Alaska in the new rig, playing the fair, helping build the house in Delta Junction, and still almost make my regular circuit, playing a lot of schoolshows. I make the switch and become officially a resident of Alaska before I head south again, like the geese and the carribou. In Montana I visit Joe and spend over a month on a planned recording session for the upcoming CD, before heading back to DC for the holidays.

---
2003

I head down early and but still stay in Florida late into the Spring doing a major boatyard trip on the the steelboat. I have only a couple weeks at 1213 before I head for Alaska. I again do almost all of the circuit. I make some major accomplishments but miss some important parts of the routine. Then I'm back at Joe's "somewhere in Montana" for an follow-up recording session as I start to mix down the first totally self-recorded and produced CD. I end up back at 1213 for the holidays again, planning to stay untill I complete the CD.

Tour 2003: The Sound of a Train

---
2004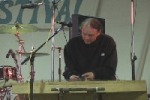 I have to alter all my plans to care for my mother while she goes through chemotherapy for lymphoma. It is tough, but the treatment is successful and ma recovers. I make a high speed trip to Florida to deal with the boats, but otherwise try to take advantage of being stationary to finish the new CD and work on dulcimer building and development. I do get the CD done, but most of my energy goes into taking care of ma, of course. The doctors give ma a green light in mid-July. Ma still has to recover from the chemo and get her life back in gear again, so my work there isn't done. But I am able to take a break, so I jump on a plane to return to Alaska just in time for the State Fair. I only have time to do a few things there and maintain the continuity, but I do it Right. One of the significant accomplishments is buying land in Alaska, 5 acres adjoining my friend's property. When I get back, I have to change my plans again, when I find out that a boat dragged down on the Hurley and sank it during the hurricanes in Florida. Ma still comes first, so I stay in high gear to finish up things around the house and help get ma back to "normal". I am under pressure to deal with the Hurley before the county hauls it away, so I get a trailer and head for Florida in mid-December, where I raise the sunken Hurley on X-mas day.

Tour 2004: Just Doin' What's Right

---
2005

I continue the work of raising the Hurley, managing to get it done in time to get back on the routine schedule. I go work the street and keep helping ma get her life back on track after the disruption of the past year, and fly off to Alaska in Mid -July, on schedule. I go gold digging in the mountains twice and play the Tanana and Deltana fairs, then spend a couple weeks camping on my land before it is time to go. I get back to my old routine and stop in Montana and Seattle to visit, though not for long. I am back at ma's early to have time to work around the house and try to leave for Florida on my normal schedule, soon after the Beginning of the new year.

---
2006

I am delayed at 1213, so I decide to get the Video Tour Journals from 2000, "AK2K", online on my own at the new Google Video beta site. I get the first ten episodes up, then add a couple entire music clips, then head for Florida. I get back to work on the Hurley, stage two, start the repairs. I don't expect to do it all, just the hull damage, make it look like a boat again instead of a wreck. So I camp out on the farm and get it done. Then I come back to 1213 and work the street there, maybe for the last time, after 30 years. I've made the pivotal decision, to "settle down" there, relatively, and complete the major repairs on ma's house, and while I do, set up the studio and shop and complete the backlogged recording, dulcibuilding, and dulcibuilding projects. I work with ma and draw up plans and specs and head for alaska. I am there for the shortest trip possible. I go to the land, play the hometown fair and the State Fair, and head for the mountains for a serious gold dig. I am there alone this time, Dave can't make it. I spend a month in the bush and come out with 5 ounces, best I've ever done, enough to pay for the new CDs. I head out through the first major snow, barely making it out. Par for the course. I make it back, do a quick good deed and head back to start work on ma's house. It turns into a major rebuild and I do little else all winter.

---
2007

I returned in Mid-October to start the first project in my plan, the renovation of ma's house, and more specifically, the biggest and most involved section. I'll work single-mindedly on this through the whole year, except for a brief trip to Florida to move the Hurley north on the trailer and return to do the minimal circuit of Alaska. This is the decision I made, and I am carrying it out, so there's not so much diversity. I tackle a huge job and get it done, and do it well.

This is the foundation for the music projects to follow. Though it takes me away from the music, away from everything for a while. I know it is what I have to do to get the music projects done at last, "do more" with the music, "leave a record" while I still can, and to do what is right, and do it right, everything in a pattern that works, but it is hard. I have never played so little, felt so isolated, wrapped up in this work, away from the People, not participating in the World. It is strange, but it is just what I have to do to get it done.

---
2008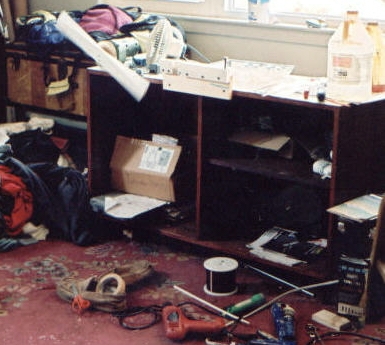 I complete the major job of the renovation, working on through the winter again. I do start shifting gears, and build a simple pickup winding machine and the first generation of prototype coils for magnetic-coil type pickups for the dulcimer. I then head to Florida to finally complete the long planned relocation to Gainesville by moving the steel boat, Dueodde, north up the east coast and then back south up the St. John's River to Green Cove Springs. This will be my location for a few years I expect. I return just in time to get ready for the trip to Alaska. I make the circuit, though Alaska is still ebbing, it is still cooking on the back burner, though I wonder if I should just skip it for a year, though I don't. I return to 1213 in October to clean up the house and get on to the next stage, starting on the music projects, especially the new CDs. I get the studio up and running again. I get the first working set of prototype pickups. I find a new host and launch the new look for the website. I am getting started, but really that means I'm just getting the wheels rolling, more than making serious progress on recording yet.

---