ALASKA 1998
THE GOLD RUSH CENTENNIAL!

POST: 10/9/98:
I played both Alaska state fairs, 28 days of playing and it rained almost the whole time, but I enjoyed it. I've posted some journal entries from the State Fair in Palmer, and people seemed to enjoy them. I stayed in Alaska an extra 6 weeks after the Fairs as well. I followed the fairs with a round of community shows: bookstores, coffehouses, schools, churches, and senior centers all around Anchorage and Palmer. I was doing my best to serve the community, and camping out in a park strip in the center of town where a creek flows through. A local friend gave me access to his place for showers, very kind of him, and I almost settled into a routine. I found pianos to play around town, especially the local library which has an elctric piano in a practice room in the third floor music wing. I would go there every day I could and take music off the shelf and sit and play, looking out the windows at the snowcovered mountains to the east of the city, and storms moving down the valley. Billie Holiday and Joni Mitchell, Fleetwood Mac and old show tunes, and the new songs I wrote while staying at the church in Palmer after the fair. I did a service there, and a duo with a soloist from the chior, and a program for the local chapter of the state children's choir. Afterwards, the pastor invited me to stay a bit and rest up if I had nothing else to do, so I did. It was like heaven for me, a beautiful piano in a great room beneath a stained glass window, with nothing to do but play, and a great coffeeshop in the other wing of the building. I sat down to write again for the first time since I recorded the Gypsy Road CD.

A big event was the trip up to Eagle on the Yukon River. I had friends who'd moved up there from Fairbanks and had been inviting me to come up. The very first time I came up to the interior, in 1993, I stayed at their house. I'd stayed in touch, seeing them at the fairs, and always being asked to come up to Eagle and always promising I would one day. Now I had a chance, and it worked out. They were coming to town for the Fall supply run, and I took a bus up from Anchorage to meet them on the highway near the turn-off to Eagle. I crammed myself in the pickup and we drove north on the gravel and dirt to Eagle. I only stayed a few days, but I played everywhere I could, the local restaurant, the children's center, and one night I played in the general store for a local concert venue. It was really fine, down-home music at its best. I wandered about the village meeting people, connecting to the place. That is how it is for me, if I can go someplace, even for a few days, it makes a connection that makes it easier to come back. After all, I never stay anywhere, I am just pausing, I am still moving, but I do come back to some places, over and over. I had no plan on how to leave, just waiting for opportunity, and it came sooner then I might have liked, but appretiated. There aren't that many people drive in and out of Eagle. But was offerred a ride back out with a bunch of students from the University in town for cultural studies, so I went. Then caught the Alaska Direct Bus back to Anchorage again.

---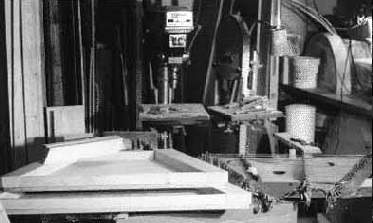 I took up an offer of free woodshop space in Anchorage that I got at the Fair from Mark Gould, who builds coopered saunas and hot tubs. I decided to use the opporunity to build two new acoustic dulcimers for myself, a cleaner looking, slightly improved copy of my present dulci and a "next generation" expanded model; and a third for Mark out of all local Alaskan materials, spruce and birch. I was camping out in a bit of woods and park that ran through the center of town. I could walk either north to downtown or south to the library, bookstores, and coffeehouses along the main east-west road. A friend who lived nearby gave me the key to his place so I could shower. The woodshop was a short walk to the other side of the park. All told, it worked out well, even as the first snows fell and the geese flew south. The woodshop had a wood-fired hot tub in the parking lot, and I was free to fire it up any time I felt like it.
The coolest thing was the coopered saunas, entire small coopered barrel-shaped buildings. Though they were cool saunas, of course, what I loved was the incredible acoustics inside.

I spent a good bit of time exploring the Anchorage music scene, too, playing the local coffeehouses and open mikes and setting up jam sessions with local musicians. I'm considering Alaska as a place to set up a base, so I wanted to see what it would be like there after season, if there was a good music scene to keep me playing, or at least playing, while I worked on recording. I wasn't so concerned with making money so much as having musical outlets and stimulus while I was off tour. I found it pretty good, with pianos to play and a good music scene. It's a pretty small town, really, with the same social good and bad points. Some folks are friendly, welcoming a newcomer, others are clannish and exclude outsiders. I experienced both sides in the local music scene. Anchorage was still a city, but the mountains were close, and so was the sea, and nature not so totally excluded as in the lower 48.
One night as I was walking back to the shop after playing downtown, and I was up at around 22nd, walking north on a side street, walking up the middle of the street because snow was piled along the sides. I was so hungry I couldn't wait and was eating grano;a oout of a bag in my pocket, head down, walking along. As I entered a intersection I caufght some movement ahead of me in the edge of my vision and looked up. I had almost walked broadside into a moose, standing there with her calf. She must have been standing there, watching me come on and on, and finally realized that I was about to walk right into her, so she took a couple steps forward out of the way. I apologized and walked right between them and on my way. Now, I don't recommend getting this close to cows and calves, but the fact was, I knew her. We both lived in the woods and the park, and I'd often seen her, and her calf and crossed paths many times. She was used to people, grazing by the bike path as people rode, walked, and ran by, an "urban" moose. But you won't find them in other American cities, I expect. One of the main reasons I had come and kept coming to Alaska was with the thought of finding a place, or at least a base. I could see making a place in Alaska somewhere.

---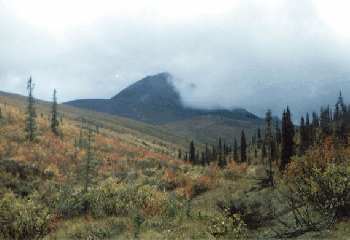 HOME