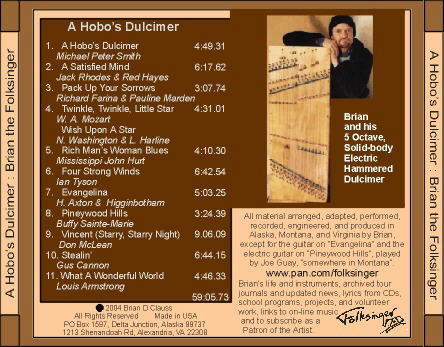 1. A Hobo's Dulcimer - Michael Peter Smith - (4:49.31)
2. A Satisfied Mind - Jack Rhodes & Red Hayes - (6:17.62)
3. Pack Up Your Sorrows - Richard Farina & Pauline Marden - (3:07.74)
4. Twinkle, Twinkle, Little Star - W.A.Mozart
-- (medley)/ Wish Upon A Star N. Washington and L. Harline - (4:31.01)
5. Rich Man's Woman Blues - Mississippi John Hurt - (4:10.30)
6. Four Strong Winds - Ian Tyson - (6:42.54)
7. Evangelina - Hoyt Axton & Higginbotham - (5:03.25)
8. Pineywood Hills - Buffy Sainte-Marie - (3:24.39)
9. Vincent (Starry, Starry Night) - Don McLean - (9:06.09)
10. Stealin - Gus Cannon (6:44.15)
11. What A Wonderful World - George David Weiss & George Douglas aka Bob Thiele - (4:46.33)
Total Time (59:05.73)

---
Sample clips from this CD are available on the music page.

This is the only CD currently in print, and the first I've produced myself, and the first recording of the electric hammered dulcimer.
It features all standards to highlight my style alone and to show how I have adapted the dulcimer both stylistically and physically to play modern music. While I tried to include many different genres, I also tried to maintain a consistency of sound and tone. This CD focuses on the acoustic side of the electric dulcimer, and varies between a smoothly flowing folk-jazz-country style and upbeat folk and blues styles. While primarily a solo album , I added some extra instruments to some tracks to show how the dulcimer sounds with other instruments.

Digital downloads from this CD are available on most digital music services listed under "Folksinger" or "Brian the Folksinger"

selected tracks from the CD appear on NoWhere Radio
where you can also purchase a CD on-line or recieve it and more by subscribing as a
Patron of the Artist
You can mail order CDs from me directly, and have them signed if you wish

Below are the liner notes from the inner booklet of the CD, which are a short reflection on the CD as a whole and upon each song in turn. The space on the booklet is severely limited, so I have added here a longer and deeper reflection upon how I see both this CD and its place in my muisc and recording efforts. Finally, I have created a seperate page for the CD's Lyrics

---
LINER NOTES: About the CD
This CD represents a significant and symbolic event in a long journey. The cover shows the first dulcimer I built, 25 years ago, and carried from Canada to Panama, playing for anyone who'd stop and listen. Some left mementos, tied to a hobo's dulcimer.
I set out to develop a new style of playing the dulcimer, as an instrument to accompany myself singing folk, rock, blues, bluegrass, country, western, or jazz music; traditional or modern. I also evolved the dulcimer from its traditional American form to my present 5 octave, solid-body, electric hammered dulcimer.
I recorded sporadically in budget studios, producing a couple cassettes, then my first CDs in 1996. I decided then to buy digital equipment and record on my own. It took six years. This CD is the first results, and contains the first recordings of the electric dulcimer.
I have a different philosophy of recording. I don't plan to produce a few "definitive" albums or recordings, that is an industry model based on mass marketing. Music isn't like that; it is constantly evolving and has many moods and faces. So I will record many versions of songs, and many CDs. I won't try to compete with the industry, but just be what I am, an independent artist doing the best I can on my own.
I've collaborated with NowhereRadio.com to set up the "Patrons of the Artist" system, based upon supporting an artist's work directly through an annual subscription. While Patrons do get audio and video shipped to them regularly, they are supporting recording as a process, not a product; and my volunteer work, and everything else I do.
This CD is the first milestone on this new road. I've really just begun to record, and to produce electric dulcimers. I have video equipment now as well. I have a lot of projects ahead, and places to go and to teach, and a whole world of people to play for!

---
LINER NOTES: About the Songs
A Hobo's Dulcimer : The Songs
I first played "A Hobo's Dulcimer" in the early 70's as "A Hobo's Mandolin". As I began to play the dulcimer, it evolved into the dulcimer's theme song. The dulcimer and I shared so many of the scenes in that song. It spoke so clearly of the life we lived, both the down to earth reality and the magical beauty. It remains one of my favorites. I sing it remembering all I shared with my first dulcimer and all the dulcimers that have followed.
I learned "Satisfied Mind" because it said what I want to say. I've seen music as a way of trying to inspire people with "romantic" ideals like peace, freedom, and justice. I have always sought out songs that sincerely embody those ideals, those simple truths. It is often hard to explain these things to someone, but a song can often express them simply and clearly. I've learned that people don't always listen when I talk, but they often listen when I sing. "And if they listen, maybe they will hear, and if they hear, maybe one day they will see."
Simple messages, simple truths; I love songs for those things. I have sung "Pack Up Your Sorrows" since I first heard it, though I can't remember when. It also reflects my idea of being a Folksinger, that it is my duty to keep songs alive, to keep singing them for the people, to pass on their message even after the author is gone and all too often forgotten. I try to see to it that their words are not.
The song also shows the potential I saw in the dulcimer for a basic accompaniment instrument like the guitar, capable of both drive and rhythmic complexity, like both drums and piano. I often describe the dulcimer as a tuned drum set I play like a guitar, or a piano I play like a drum set. While this first CD is mostly acoustic and reflects my solo sound, I added rhythm guitar to several because that is the sound I had imagined. I always hoped I'd find someone who sang and played guitar to form a duo. I expect future CDs will reflect playing with many instruments and musicians, and solo, and all the sounds in an electric dulcimer.
There are a lot of truths, and not all of them have to be deep, philosophical ones. "Twinkle, Twinkle, Little Star" is one of those songs that just happen, starting as a spontaneous jam and quickly developing into one of people's favorite tunes during the summer's tour. Along the way I turned it into a medley with "Wish Upon a Star", adding depth and meaning to them both. Sometimes it just happens.
There's plenty of simple truth in the Blues. There's also songs that are just fun to play. I first studied Mississippi John Hurt to learn to play finger-picked guitar, contributing a lot to my style of guitar and, later, dulcimer playing. "Rich Man's Woman Blues" really shows what I took up the dulcimer to do: to play it with a different style, in a new way, being true to the roots of the music yet giving it a whole new sound.
Folkmusic means "the people's music". A folksinger is a modern bard, and like a teacher, a healer, or a minister, lives in a world beyond tribal boundaries, serving all people. I say I belong to "Musicians Without Borders". So it's natural that Canada and Central America have been an integral part of my life and music as an American folksinger.
I built my first dulcimer in Virginia, learned to play in New Brunswick, Canada, left my guitar behind in Washington, and then traveled on through Central America with just the dulcimer. While I am an "American" folksinger, the songs and the dulcimer I play have roots around the world, reaching back in an unbroken chain into pre-history.
I learned "Four Strong Winds" long ago. Like many songs, it would come and go. A few years ago I was singing it a lot, when by strange coincidence it suddenly was telling too clearly a story that I lived through in Alaska and Alberta. The song says it all, and proves a simple truth behind folkmusic, that you don't have to have written a song to have lived it.
"Evangelina" speaks to me somewhere between a dream and a memory. I've spent a lot of time south of the border, and dreaming. This version is special. I was just teaching the song to Joe, showing him what I wanted in the guitar part, a style he'd never played. During that practice jam, he suddenly got it, the feel of "old Mexico", the subtle interplay of upright formal propriety, fluid grace, romantic poise, and deep, veiled passions; of spanish lace, poetic words, and dark, glancing eyes. After that, though, we never got it again during the recording sessions. When I finally produced this CD, I decided to share the beauty of that spontaneous duet, recorded by chance, instead of more session-perfect solo versions.
"Pineywood Hills" means a lot to me, heart and soul, though it might be unknown to many people. I've said a good song is like a pretty picture, while a great one is like a mirror. I see my life reflected in this song and the images are so clear. It is also the song I chose to have the most modern sound, with Joe playing electric guitar.
"Stealin'" really shows what I dreamed the dulcimer could be, free of it's traditional stereotype. It shows the rhythmic, syncopated interplay that is integral to my style as a singer and my playing of the accompanying instrument. It shows both my folk roots, and how "originality" can be about style, not just writing new words and tunes. For me, a true test is to take a standard and play it in a way that is both new and unmistakably individual.
"Vincent" and "Wonderful World" are two of my favorite songs. They are like the two sides of what it means to be an artist, to live a life so beautiful and so terrible. During hard times I play those songs and think of the lives of many really great artists; how Van Gogh never sold a painting in his life, and the years when Louis Armstrong couldn't get a gig in the U.S. and played in Europe. I find strength in these and the many other stories as I wage my personal struggle to live a life devoted to art, caught between the people everywhere who have given me so much encouragement and support, and the music business that has been a constant discouragement, a depressing system of a few pop stars and a majority of equally talented artists who must be excluded. I try to fulfill my promises to "do more" with my music, while I have mostly survived by playing on the street, swinging between the incredible magical moments and those good old harsh realities.
Then I sing another song, and everything's ok.

Brian the Folksinger
---
TALKIN' BOUT "A HOBO'S DULCIMER"
There's not much space in a CD booklet to say much, so the liner notes become more of a prosaic statement than a place to express my thoughts and feelings. So I'll take some time and space here to do just that!
About the CD itself, as I finish it, I am acutely aware of the balance between process and production. Though the whole point is to produce something, epecially now since I see a real danger of falling into the trap of an endless process. I am always beset by delays and the desire to wait till I'm able to produce something better, or just different; or to add more tracks. I have so much I want to express musically, emotionally, and philosophically and feel an irrational desire to do the impossible nand get it all on one CD! I want to study and practice to be a better studio engineer, at least feel more confident about it.. But it's been six years or more since I made the last CDs and decided to get my own gear. I need to produce a CD and move on to the next CD, and the next. That is the balance, to have a process that produces regular CDs, but remains focused the bigger picture, not any individual CD. The real goal is not a CD but recording and producing CDs, a fine but real distinction.
I also need to keep in mind my essential principles and philosophy in regards to recording, that came out as I talked to people about it. I am what I am and the people who see me play know it. I can't try to compete with the industry studio productions at any level, and I don't have to. Everyone I talked to agreed they'd rather have something by me than nothing, and better to have something that is good enough than wait another year or two or three till I can do better. I want to see recording as a process, not a attempt to reach some "definitive" stellar recording to enshrine. I see it more as a way to take snapshots, almost. The music evolves and changes, songs come and go, and I play them many ways in different moods and times. I want my recording to reflect that, and produce a stream of recordings. I still must produce individual recordings and not let either fear that it's not good enough or the artistic/creative desire to never be "finished" stop me. That's the concept behind the "Patrons" idea, to establish a long-term relationship with people who like my music, so I can send them a stream of recordings as it happens. I want a feeling of continuity rather than disconnected objects appearing in unconnected occasionality. Who knows, with the internet, I might one day be able to deliver to my Patrons music "as it happens", a single song at a time, totally outside the constraints dictated by old technology and marketing. I also need to accept that "good enough" is good enough. I need to accept that I will get better at recording and engineering, and have recording sessions that go better, and be able to add more tracks and collaborate with other musician, and record many versions of a song. It doesn't mean I have to wait to produce CDs, just that the CDs will get better as I produce more and more recordings, and its all ok

That's the big feeling as I get from the last minute changes, that I can tweak it forever, then want to just start over.It had little to do with the dong and everything to do with artistic temperament. I just reshuffled the song order to keep to make upbeat and mellow songs alternate more. It took hours as I tried different lists, running them through in my head. I know people probably won't notice or care, but for me it has to be an album, a complete story. Each song has to have a reason to follow the one before, like the sound track of a movie. I see it that way, and like a live performance where I talk to the audience and lead from one song to the next in a continuity of mood or idea or the story I tell. I know I can do better, this is just the first effort. There is still more gear I need, though not much, and more refinements to the dulcimer, and recording technique, and even better studio spaces. As much, I just need more time to record, so I'm not rushed, so I don't have to try and sing when I am feeling tired, burnt-out, or just plain sick. There is an art to ride the mood swings just right, catch just the right mood for a particular song, or just that moment when a song shines, and I can't say exactly why. But this CD is good, and definitely good enough, and definitely better than nothing! I actually think a lot about what comes next, since this CD wasn't actually the one I intended to do first. Years ago I made a huge list of songs I play regularly and broke it up into a series of concept albums, even named most of them. This one, a primarily acoustic sounding mix of mellower and more obscure folk songs that still are favorites I play regularly, was supposed to come a few down the line. But these are the songs that came out of the first session. Though really, I feel the other ones are more "important" to what I want to represent my music and what I've done with the dulcimer. The CDs of more familiar "pop" songs, the social action songs, the originals, and the real "electric" dulcimer. These are the next on my priority list, though hard to say which will come first. It will be interesting to see what comes next, as I figure to keep on a serious focus till I have at least two or three more CDs recorded over the next year and a half.

The Hobo's Dulcimer CD's concept was for a more mellow and acoustic folk album with some of my more obscure but favorite songs. Though it certainly includes some of my favorites, it also is a bit frustrating. I want to records something that is really different from anything traditional, and this isn't it. I disliked the original Folksinger CD simply because the choice of using the oldest traditionals and Americana, to save on liscensing costs, seemed to reinforce the concept of the dulcimer as a instrument for traditional music. This is the very concept I want to break. I want to make a CD that shows the dulcimer as an instrument as natural for modern music as the guitar or piano, though they can be used for traditional music as well. So in some ways I wanted an album the didn't radically different, that sounded like a typical acoustic, folkmusic album, even though I play a dulcimer instead of a guitar. It is intended to be a CD of folkmusic, not a CD of hammered dulcimer music.

I also want to make recordings that shows what the electric dulcimer can do, in a quantum leap beyond traditional dulcimers, just as electric guitars were to acoustic guitars. I want to show what the electric dulcimer can do as an electric dulcimer, what new potentials I have unleashed here. In trying to record what amounts to a huge repitiore of songs that were originaly developed on the acoustic dulcimer, I haven't done as much to explore new directions and sounds. Or I have, but that is the latest stuff, rather than the backlog of material I am trying to make a record of. But I think it will creep in, both in the originals and in my general sound. The fact is also that I will always use the "acoustic" sound for some if not a majority of my music, just as I have used acoustic guitar rather than electric. Yet that may change as well as I move into this studio setting where I literally have electricity and can start playing electric guitar if I want to. I have been limited by nescessity, and the choice I made to follow a path where the simplicity and effectiveness of an acoustic instrument was the way to go. Well, maybe now I'll start going other ways, there can be many chapters in a life. As I imagine a song, I can start being free to "think electric" as naturally as acoustic.

There is so much I want to do, and perhaps that is the biggest aspect of this CD for me: not what it is, but what it is part of, what it is the start of.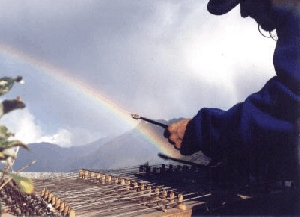 Peace
Brian