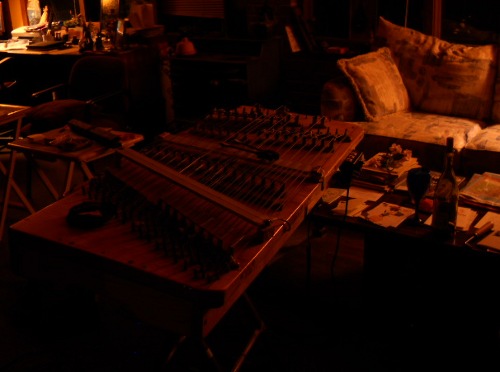 It's been 6 weeks, again, since I wrote a web journal. It is both because so little has happened, as far as the music goes, and so much is happening, personally. But I will keep up the continuity of this journal, despite the situation. I am certainly writing lots in my regular journal.
The pressure hasn't let up, really, I have been going non-stop with hardly a break. But it will pass, like the storms at sea, and sooner or later I'll be looking back at it all, just shaking my head at what I've just been through. I guess I don't worry about making it through, anymore. I am just so capable, and stubborn, and persistent, that eventually I make it through. So I just focus on the one step at a time that gets me there.
I feel comfortable and really at peace with mom being gone. It strikes me at times, sometimes moments of sadness that we won't be able to do things we'd planned on. Though we both knew they might not be. Sometime, and really more, often, as moments of pleasure, as a hear a great story or comment from one of her friends, or remember a scene myself, as I clean the house, another facet of a rare gem. I miss just having her around to talk to, as an old friend who knows my life a bit, and a fellow artist who knows what moves me, what drives me. She is always very present, comfortably, not so much as before, but there's always that bit of her in me, as always, I can hear her shrewd comments and criticisms on about anything I do. Death hasn't changed that much. The wake will be at the end of this week. The last big event for me. I'll see so many of her friends I've never met, I expect it to be a scene at times, quietly talking with a few friends at others, improv theatre at it's best.
And, of course,, the tribure page, "Rusty the Thespian", keeps growing as people add comments and I add more emails, pictures, and videos people send me. As it was meant to be, though I did my part, I am just one actor in the show.
As I continue the job I'm doing here, I'm also shutting down the last non-essential utilities here at the house, including internet access. I'll have to figure out a new routine by the time I try to post again, maybe from Florida, or a final post when I am ready to leave here, wrapping it up. I'll can find access somewhere, I always did before. I always planned to move to a mobile platform eventually, but I don't have time to do it now, or even think about it. After I have finished here and left all this work behind me, I'll start figuring it out. Technically, I want to wait for the next generation processors to come out next year before I invest in a new laptop, as well as all the other hardware and software I need to move to mobile audio/video production and web publishing. But there are plenty of computers these days, not hard to find any more. So I'll manage.
---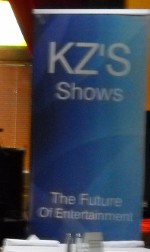 As for the music, though I am cut short in the middle of my plans, and really have to focus on being ready to leave in a couple months, I have made some significant steps, and played a show. So I keep the music energy flowing, despite everything.
I did a show, a paid gig opening for a talent showcase, and it was good to get out, though it was a bit strange as well. Though in the end, I realized I couldn't let myself get distracted by trying to perform. I need to get this effort done in one major effort, as quick as possible, and get it behind me. Assuming that is what is happening. But I can't help it, still respond to offers that come for paid gigs. Need the money, need to play, and I have to think ahead. I am absolutely busy right now, and have been for a couple months, but soon I'll have more time as I wrap things up. The mountain always seems endless right till you reach the top.
It was a depressing moment when I faced putting the music projects on the shelf again, indefinitely, till I either get somewhere else to work or get a set up in a rig. So I decided to pay for commercial studio time and get at least one new CD out, in defiance of what had happened. I went to the studio for a couple sessions, and well, it worked out fine, though I didn't really get anything done on the CD. Essentially, I answered the main question, would this work, was it a good idea. The answer to that was yes, the studio engineer is a cool guy, has a good set-up, and knows his stuff. I know it will work, which is the most important thing. The problem is, he was ready to get started, but I wasn't. I wanted him to try recording the dulcimer, see how it turned out, see if he liked it, and if we worked well together. I am more than satisfied on those counts. But the fact is, I haven't played in months, and I need to practice every day for a bit to get up to speed again, to make this effort worth doing. I've been playing guitar a lot the last months, but not the dulcimer, and not the songs I want to record, mostly. And I am depending on my ability to play great, flawless takes with great energy, to pull this off in such a short time. But I am not there yet. To even do that will be a great effort, with all I have to do, but I try to spend some time every day, playing the dulci, and the guitar, going over the songs I want to record, getting them back into automatic, so there is no hesitation, no effort. And I have so much to do right now, it is crazy, though gradually the pressure will let off a bit, though I really won't be able to focus on much till I am ready to leave here. Still, I can live in the van and work in the studio this Fall, if I have to leave here, and get it done.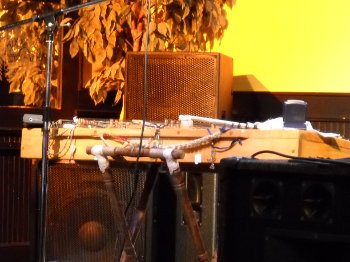 I also had to let go of all my ideas for the new CDs, and focus on really a whole new project. A CD of originals, but what I can do in the shortest time with what I have, the low-hanging fruit. Do something good, hopefully something great, but focus on my live sound more, not what I could do with other instruments and a lot of time in the studio. I don't have time to try to develop a new "studio sound", though that was one of the original concepts, to do what I could do in the studio, not what I do live. Also, to find studio musicians, and develop a band sound, where the dulcimer is front and center, because it is what I do, but played the way I would have learned to play if I had been playing with other people all these years, not the solo sound I have depended on. But that is what I have to depend on now. As I said to the Mike, in the studio, this isn't a CD for the masses, to market to the norm, or what is pop, or even what is more understandable to the average listener. This CD is for the people who hear and see me play, live, and want to buy a CD, and they want that sound, the dulcimer-vocal combination I developed. That is who I am recording for. And if I do anything, it is to improve that sound for them, by adding percussion, adding guitar, adding extra vocals or another instrument.. but always remembering that is is about me singing with the dulcimer, first, and if anything, playing the dulcimer more by itself, what people asked for after the first CDs, and I tried to add in the last, more instrumental breaks highlighting the sound of the dulcimer.
It is hard, becuase I wanted to do more, or just something different with this CD, and Mike is a great engineer and has suggestions that are spot on to what I was thinking myself. But I'll be lucky to get it done just going for what I am going for, in the situation I am in. On the bright side, I'll get another CD done, and it will be better than what I could do, and U hope to learn as much as I can. It really makes me think about the whole concept of trying to do it myself. O can, but I am not going to be as good as someone who has made it their professional focus, whether engineering sound or playing lead guitar. Yet it also makes it clear that unless I make a lot more money playing music, focus on that, I can't afford the studio time to do what I'd like, to really use someone like Mike to full advantage, when I am trying to get in and out ASAP before I run out of time and money for the project. So it goes. So I'll try to learn all I can working with him, try and make what I do better. I already know I need to work on playing with others, or even with myself, pre-recorded, and develop a style for the studio, more spare, more restrained, where the dulci is not the entire wall of sound any more, but just a part of a larger sound.
That is the reality. There are thousands of singer-songwriters, guitar bands, but only one like me, singing with the dulcimer. I have a unique sound, and need to focus on that, not try to make it sound more like other people's music. Remember who I am recording for, the people who are listening to me play, and like it so much they want a CD.
I also have given some thought to what else I might want to do before I have to leave here. The most important, I think, is to get studio performance videos done. I am so close, I just need to shoot some songs when I am in my stride, practiced up for the studio. I can process them later if need be. But once I post them, I can really focus on promoting the website, and trying to get booked into festivals and venues after I leave here.
The other big thing would be winding more coils for pickups, making sure I have a spare set, and at least sets of coils to build more out of. It really doesn't take that long, since the winder is still essentially set up. I just need to do it. Then I can keep moving forward on that project, even on the road. I can put together the wiring and switching anywhere, it is just the actual winding of the coils that I need the machine set up for.
Finally, I think about buying wood for more dulcimers. Though it is true I may already be hauling a lot of stuff away from here, just to try to find a place to store, I also will never be closer to the source of wood, and have an easy shipping address as well. A small stack of planks will make ten more dulcimers, which would keep me busy a long time. But if that is my intention, to give he dulcimer a life of it's own, by passing copies on to other people, I need to build.
It is interesting. Though I try to focus on the moment, the step by step progress I have to make to get out of here in time, which won't be easy, I still am always dreaming of the possibilities of the future. It is a form of productive day-dreaming, where my mind wanders as I work, but I am focused on potential scenarios for the future. Often, one general scenario starts to dominate the rest, a few threads become more and more real, become visions, and plans.
I keep sending my mind forward, to what I will do and where I will go, without trying to fasten on it, but see what fascinates me. When I go to bed, I try to guide my dreams, tell myself to dream of what will make me happy. See where that leads me. The results are not surprising, like all my best dreams. I have found a homestead farm in the mountains, or am back camping in the wilderness, or I am at a festival playing, or playing somewhere, or on the water, or at a harbor town or beach, the realities of my life when I was living my dreams. But then, almost always, a girl shows up, somehow woven into the story, the love I have been dreaming of all my life, the woman of my dreams. I always remember her eyes, someone I recognize, though her form changes. I guess I want to believe that she is out there somewhere, reaching to me through some psychic spaces withing my dreams, wearing different forms like clothes, but I still recognize her when our eyes meet.
More to the point, I contacted two old best friends out West. Significantly, they both talked about getting together to play music. One is my lead player from the last CD, telling me he has recording gear of his own now, and has built a guest house at his place I can stay in instead of recording in his one room cabin, where I did the last CD actually, "somewhere in Montana". My other buddy lives in Seattle, one of my bases for many years, till I started spending my Fall in Alaska, though I still stopped to visit Seattle on the way, most years, and made a loop to Montana as well, till recently. You can find both of them in various clips in the tour journals. To the point, Moss, in Seattle, recently left the band he's been with and is wondering what he'll do next. We'd always thought of playing together more seriously, but he was busy with a regular job for years, and when he shifted seriously to music, I wasn't in Seattle much anymore. And he has finished building his own studio/guest quarters as well. Though nothing is certain, it opens up great scenarios in my mind, really positive possibilities for the future, which was really good for me, no matter what really happens. It brought me back to the life I had before I came here, and the great things I had going out there, and right now, they are suddenly looking even better potentially for the future, when I can finally head west.
There are other dreams as well. With me, they are not vague fantasies, mostly, but pretty specific, from real experience, and knowledge. It is closer to imagining what would happen, day-dreaming scenes and scenarios, if I followed through on one of the specific options, specific plans I have always had ready in the back of my mind, for when the time came. Since often these plans are simple, how I would live, the practical part, not where I would go or what would happen, not how it would work out. You can never know that, really. But the means, the foundation, that can be clear. Like building a place on my land in Alaska, or now that it is paid for, look for land in Montana or on the west coast, where my other buddies are. Like fixing the steel boat, or buying a bigger one, and cruising through the islands and on to south America. Another one is getting another bus (it would be my fifth), or at least, a big transport van, one size up from what I have now and with a "bus" body, which I can get fairly cheap up in Alaska. I'd have a small room, but a room, big enough to record in, big enough to build dulcimers in, and comfortable on the road. The van was good, even pretty comfortable, but cramped. I can't even play the guitar easily, much less the dulcimer. And if I do the vegie-oil conversion on another diesel, I can still follow the plan of going from festival to festival for another decade, gathering used fryer oil from the booths at the fair to help me make it to the next fair. On that note, I dream about going from fair to fair whether I am booked or not, and just playing the dulcimer anyway, inside if I can, out in the camping area otherwise, sell CDs, promote the website, but get the dulcimer out there in front of people, even if I have to pay to get in. Sometimes they might stop me from playing, sometimes they might make me official, but if my real mission is to get the dulcimer seen by as many people as possible, going where I can get booked is not necessarily the most effective. And honestly, I make enough money when I can play to make up for going to festivals I don't get tips. Though if I can't play at all, I won't go. I am not into going to music festivals to listen, only to play, and hopefully, to jam with other good players, pro or not, and socialize with people into music. More than any specific plan, it is about getting out in that world and seeing where the music leads me. As I know from experience, it is a world I belong in, and one where my abilities make a way for me, make me welcome, and lead me on.
It has been tough, being here alone, day after day. Solitude is not hard on me, but when I have so many things on my mind, and so much to think about, and major decisions in front of me, it is hard having no one to talk to. It is hard to clarify things when you are in your head, easier when you have to put it into words. I have often watched ideas evolve in a series of conversations over days or months with many people, all on the same thread, till it becomes a settled narrative. Now, I use paper, lists and pictures, to force things into specifics, into concrete jigsaw puzzle pieces that can be put together into a picture. It is an exercise I began when I was still a teenager, and it still works now, to help make some order out of the confusion of images, scenarios, ideas, and visions that crowd my mind most all the time.
---
Personally, it is still a major effort, a major trial. But it is not the first time by far. In fact, I am so used to this that it feels natural, to work full speed without thinking beyond what I have to do next, beyond the checklist for this week. But my life now is mostly about doing one thing after another, dealing with the the job here. Checklist after checklist, from talking to banks and lawyers to cleaning out sheds that haven't been cleared in decades, to baking bread and doing this journal before the internet is cut off, staying up all night to get it done in time. It is all getting done, step by step. Though it is also different. Usually I work in cycles, checking things off for this year. Now I do a job that will end up being completed and left behind, with many things on the checklist that once done, are done for good.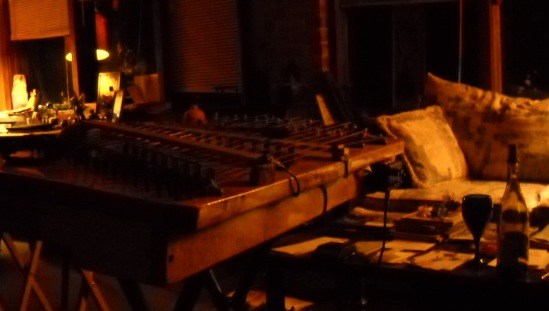 It is lonely here. I work day after day, till I forget what day it is. I am lucky to have a few visitors, old friends from out of state come by, and it is just great to sit and talk. Another couple, friends from Italy, come to visit. Again it is good, and we talk about me going there, and just like my friends out west, it puts me on a positive vision of the future, makes it more real, more a plan than a dream. And I talk to my buddy in Montana a good bit. We were out of touch the last few years while I was here and unable to make the loop to Montana, something he expected as we talked a lot about what I planned to do coming here. But I was able to finally send him a DVD and a CD I'd been trying to get to him for a while, sent him the year after I came here, but the address was no good, and I had't been able to track him down since, till now. And just the people in the neighborhood, all old friends, stopping to talk as they walk their dogs, or I stop what I am doing, take a break and walk with them a ways. But it is true, in the end, I am working day after day in a big empty house, with really no time to go anywhere. Maybe when I am finally ready to go, I'll be able to go out again, though it will be to say goodbyes. so it goes.
---
By the first week of July, the finances are taken care of. I go through ma's entire email account harvesting addresses, even ones she never compiled into contacts from her last ISP, and send a final announcement to hundreds of addresses, 10 at a time, trying to get the news to everyone I can, doing my best for ma, and her friends. I make the trip to Florida, to take care of the boat and see my relatives there, finally.
It was a good trip in many ways, even if it was a huge drive, a tight schedule to do just a few things, and then back, all in a week. I left July 7th, was back July 15th. I took ma's car, as we'd planned before she died. So felt I was carrying out our plans really, which was cool. The drive itself was good, to be in that familiar place, familiar space, and it really seemed to go quick. Of course, ma's car is faster, and smooth, and comfortable, I got her one of the best used car I could, a Honda Civic, and it shows. Though it isn't easy to sleep in, I manage, with the seat down, the hatch to the trunk open, and my mattress stretching the length of the back.
I had this feeling I often have when I am doing things, like a dance, where my energy is just flowing smooth and graceful, with perfect timing. I couldn't find chain in the DC area, but found a place in Jacksonville and placed my order and headed south. The problem was I left Thursday, and if I didn't make it by closing Friday, I would have to do it after I visited my relatives, not so smooth and direct a course. But I did it, swooping into Jacksonville and into a pouring rain, and got my chain, showed the man I'd ordered from the gold nugget, as I'd promised. Then was away again, making it to Green Cove Springs just in time, again, to buy my registration sticker for the boat at the County Tax Assessor's Office, just perfect.
And then I am there, back in the park, looking out at my boat, anchored where I'd left it. A lot more boats then when I first came here, so many years ago. It was strange, to stand there and feel the memories of the years since I first came here, sailing up with a jury-rig on a mast broken in half, to leave the boat so I could spend time with Dad. Stopping every year to paint and check the mooring, even put a door on the hatch imagining I'd live here more and allow myself to "lock up" easier as I went to St. Augustine to play. But like the plans I had up at 1213, that's all done, and I don't know what is ahead, just what I have to do now.

Though I don't have time to do anything that afternoon, I still get out the inflatable kayak dad gave me, leaking from a new hole, but still working to do what I need. I head out, and Pooh is still where I left him, along with the fighting conch shell. It is so strange. As I swing aboard, I have to just sit for a while, my back against the hatch I won't even try to open this time, overwhelmed by decades of memories, the great scenes and achievements, and the great disappointments. I am overwhelmed by my awakening senses, the whole part of my physiology geared to boats and the sea, as a significant part of my brain and body is suddenly waking and coming alive. I have come back into my life, and my world, again, one I have really been away from so long it is almost like a dream, almost forgotten, yet the reality brings it all back, shakes something that is rooted so deep and strong, such a big part of my life. It is an experience beyond description, which are the experiences I live for. I just have to sit while it all passes through me.
After a long while, I return to shore. I get my food out and eat there in the park by the water, slowing down for the first time in a long time. Then I get the guitar and I play there in the echo-chamber of the gazebo for a couple hours. It is dark now, and I go off to find a place to sleep. I try a place I used just to pull in and take a shower before, a dead end road on some undeveloped property farther down the cove, where it turns to swamp and marshland. The road is overgrown with grass and unused, but I turn in quick, push through with headlights off, and shut her down quick. I sleep deep and well, and up early with the sun.
It is an old story, I lift the mooring chain onto the bow of the boat, replacing the two chains that go from the bow to the swivel and heavy ship chain below. I am just in time, one shackle has already sprung. But that's why there are two chains. I replace them, lift the heavy chain to find the lighter cross chain, and tie off a float. This is summer weather, a tropical wave is moving through, so the day goes from the near calm of morning to the afternoon, when a solid wave of massive thunderstorms are rolling in. I use the sudden hard wind to slowly lay the heavy ship chain back out in a line, not piled up on the bottom, good luck, good timing. I have done this before.
As the storm crashes down on me, I take shelter under the upside down rowboat I have lashed above the cockpit as shelter. I brought a warm sweat-shirt just for this event. A strange thing happens. As the storm hits, and the boat begins to move, I am overcome with the urge to sleep. Something in me needs to connect that my conscious mind is in the way of. I know what is happening, what I need to do, though I can't explain to you why. So I lay down there, warm and comfortable, and instantly fall asleep to the plunging motion of the boat, the wind and thunder and pouring rain, the cool spray on exposed skin, blowing around the cabin and the rowboat, though I am safe and secure, sheltered, curled warm in the sweats and sweatshirt I brought, head pillowed on my life-preserver.
I wake up some time later, I don't know how long, a couple hours at least, as the storms pass away with the dropping sun. I get in gear, chipping the accumulated growth from the old chains I have removed before I take them ashore, so I can pack them away, still probably good for something, at least recycling. Then I return to shore to go through the same routine again, eating and playing the guitar, though my hands are stiff from pulling chain, and I feel familiar muscles, unused for a year.
I wake the next morning ready to finish the job. I am making coffee by leaving it in cold water overnight, then filtering it. It is a sweet way to brew, like they do in parts of South America. It is good looking at the piles of bright new chain in the morning sun, doing it right. I am not going to try to inspect or replace the cross chain that runs to the two anchors, making the mooring. I will just double up the new chain with the old chain running from the big anchor. That will do. I go out and laying across the kayak, slowly lift the chain, moving the loop of rope attached to the float along till I reach the anchor. Then I am off and into the water. It feels good, even this dark, murky half-river water, strangely tangy with the outflow of the sulfur springs that give this place its name. I have to dive down , eyes closed, and carefully reach down the entire length of my arms down into the mud to shackle the chain to the shank of the anchor. I am lucky it is not deeper in the mud. I use a couple tricks from long experience, but in the end, it comes down to simple clear visualization and staying calm, as I hold my breath and do a tricky job. Then I slowly work my way back along the chain, pulling new chain from the kayak to lay along the old chain till I reach the big ship chain that leads to the boat, and there I shackle it again, the remaining new chain I continue with along the cross chain, as far as it goes, shackling it to the old chain where it ends. And I am done
I clean Pooh and put him back in place to wait again, as he has waited for years, through several hurricanes, a remarkable bear. The final feeling I take away, is a recognition of how competent I am, both in how I did everything here in the first place, and always have with boats, and how I did this job so clean and tight. No wasted motion, doing a hard job right and quick, without rushing, getting it done and done right, once again. I realize again what I tend to forget, since I can only measure myself against myself. I am really a seriously capable and competent person, in everything I do. I just never want to accept it, and tend to play it down. But the sea, and boats, are practical, and absolutely ruthless, they are a true test, and I have passed. And I have to see all the things I've done for a moment in this light, from the gold mining, to the dulcimer and the music, to the work on the house, and so many other things. That while I never tried to do great things, I have done the things I did great. I go away feeling, knowing, that I can handle whatever is ahead, even if my best efforts fail and I crash, I'll make it through and get it going once again. So I stop worrying about it. Whatever the future holds, whether I succeed or fail in the moment, I'll be able to not only handle it, I'll do it with the same capability, the same perseverance and intelligence, the same competence and skill. I came to do a job on the boat, I leave behind a lot of my doubts and worries about the future.


I drive west through pouring rain. I spend a few days visiting, not important for anything specific, but very important in essence. This is my Dad's second family. One I promised him I'd be part of before he started, since he knew he wouldn't be able to be there for his kids as long as he'd like. As it was, he died last fall at 84, while I was in Alaska, and I haven't seen my brother and sister since I left here last Spring. They are teens, now, at least, and I have been there all along, their cool older brother, traveling off and bringing back pictures and stories and odd bits of this and that. And though it is understood, at an elemental emotional level, it is important to show that I am still there, still part of their lives.It is cool, too, as we are able to sit at the table and have more adult conversation, as brothers and sisters, talking about life, and whatever comes up. It is good for Janet as well, his wife, the same continuity, as I show up to do some work around the house, deal with computers and odd bits of house work, just as I have always done. I take away a few boxes of his books she doesn't want, mostly about sailing and the carib, as I learned to sail from Dad, and that was one of our solid connections, as sailors. And books about Central American culture, another common experience that Janet never shared. Framed pictures of places El Salvedor and Panama that I know but she doesn't. It was good. Then it was time to go, and I headed north, passing through the storms again, sleeping at a truck-stop just before I hit the worst of it, a wall I saw coming for an hour, gone in the morning, and I am back at 1213 that night.
The final thing I noticed is that the trip served me well by creating a boundary. My life has always been bounded and bracketed by road trips, as I moved from one part of my life to another, one season to the next, one chapter to the next. The effect is unavoidable, even in so short a time-span for the trip, it was still the same long drive to Florida and back, time on the boat, time with my family there. My mind doesn't care that is was days instead of weeks or months. It put the last months firmly into the past, broke the continuity, and I returned to start again, but to start a new chapter in the story, with a small but powerful divider between me and the recent hard past, which was behind me now.
---
So I am already feeling things fade into the distance behind me. The months at the hospital. Ma's sudden and unexpected passing. The haze of day after day work doing all I'd promised to do afterwards, to take care of her friends and family. And while there is still so much to do ahead, it is different. The past is behind and that job is done, and this job is more packing and cleaning up to go, a different thing. It is all about moving forward, rather than dealing with the present, and the thing I came here to do, be with ma, is done, and done well. Even more, she is more clearly with me, in a true lesson of the road, that you see what you really do leave behind, and what you carry with you. I leave behind all the trouble and difficulties of the last months of ma's illness, all the small things, and I take what I always had, her presence in me, and the amazing and inspiring persona she always was for me, whether I was here or far away. I dreamed about her recently, heard her talking out in the living room, came out to find her talking on the phone to friends, gathering up a small bag of things, looking good, as positive and sprightly as ever, and it was good to see her. We didn't say anything really, nothing to say, because we'd really said it all, in the time we had together. I just gave her a big hug, something I really wasn't able to do since she'd been in bed these last months. And then she was gone, or I woke up, or both. It was a good dream.
The girl I loved who didn't, or couldn't, love me back, she has faded more. Though she is still there, because my love is true, the connection is deep and strong, but that is what remains, as the painful parting, and even the beautiful moments fade. She becomes the last girl, the one I still see when I sing. But I don't hold on to something that's gone. I face the road ahead, and what I have to do to deal with reality. I accept it, and let the feelings rage through me, till they pass on as well. For weeks she never left my mind, and I filled a 70 page journal mostly with thoughts of her, and all she made me think of, all the years and decades, days and nights, of a life alone, never meeting the right girl. Till I wonder why I keep trying, though I have to try. I went through it all, over and over, what could I have done different. But in the end, it was stacked against us all the way, and she didn't have what it took to make it happen, meet me half-way, or well, just didn't care that much. It was not unexpected. I think instead about the next one, and how to try to make that work, if I have learned anything from this latest experience. But nothing stands out. Except maybe take it more seriously, try harder, recognize how rare and special it is to meet a woman who reaches me like she did, and make a greater effort not to let it slip away once again. Though it doesn't seem right to have to persuade a girl, to force love to happen if it isn't just happening naturally. Don't really want a girl that needs to be persuaded, that needs to be pushed. I want one who just Knows. All that matters really, is when the next one comes along, is that I'll give her a chance to meet me half-way, like I did this last time, despite the fact that the odds were way against, the situation really adverse. Give love a chance, not just turn away because I know it will hurt me so much to lose once again, to feel just how lonely my life is, my life has been.
No, she's never far away, but there came one day I noticed she had slipped into the back of my mind, below the surface, like the other girls I met before her that didn't work out for other reasons, to that temple where my heart lies before the altar of my goddess. Though she is there in a moment when I reach for her, or suddenly, if something reminds me, but there is so little we shared, in reality. It leaves me sad, quiet, the man I usually am, when I am not singing, entertaining. I went back to the Epicure Cafe again, once, because it was such a cool place, but it wasn't good for me. Too many memories, too much a reminder of her even more, too much a reminder of things I find, well, just frustrating and unfair, not right, that it never works out, that it didn't work out, once again, and I am left, lonely and sad, depressed, though I pick myself up and move on. And I need to move on, and that place doesn't help. I can't change reality. She had her chance, she made her choice, and that is that. I don't expect our paths to cross again, or they might, but it can never be the same. We have both moved on, her to her men, me to my lonely life. I need to leave her behind, because she isn't real, just a dream I had. I have to look forward, knowing I can fall in love, and hope the next one will finally be there for me, finally love me to, want to be with me, just me, and live the life I live, be able to live at the level I live, able to fly.
I have a long conversation with a young girl there, a babe in toyland, and it doesn't help much. I just don't understand. Though it was interesting, how on one hand she could say she didn't want to play the games, yet in the end, she does. The instincts, the behaviors programmed into us as the animal we are, are hard to resist, and both society, pop culture, and the players, push us to join that world, be shallow, self-indulgent, endlessly adolescent, the biggest consumers.
And I do understand. I can't say what is right or wrong, just what is right for me. Perhaps because this whole sex-obsessed mentality is so much a part of the mainstream pop-cultural status quo I rebelled against. Or just knowing what is right for me. I am just a different type of person, and the result of a lot of pretty intense and rare experiences and training, not interested in playing with toys, not interested enough, not compared to the dulcimer, not worth all the trouble. Maybe I am a throwback to an older generation, that was more responsible, not focused on selfish, thoughtless consumption, but on building something real. I want, no, I live a life that is deep and intense, where everything is significant and takes total commitment. My life is so full of that, that games and players just don't even penetrate the surface of my attention, even when I was their age. It was like being in a room full of children, beautiful, fun to talk to, and there is a real connection, but in the end, we live in different worlds, and I have to return to mine. It is the world I chose, if you can call it that. I opened my eyes, and there was no going back. I've tried, I've retreated and hid away from the world, and myself, but there was no going back. And I have no regrets about that. I entered an incredible world, amazing, indescribable. My regret is that I never met someone like me, a girl like me, somewhere along the Way.
But that's all old history, and I don't let it bother me any more than it always does. The present, and the road ahead is what matters. I keep getting it done.
Though I have little time and need to get to work so I can get through it and be done. That is the new chapter, a short one, that will be done in just a couple months of hard work. It is still not clear what the future will be, I might end up keeping the house, it is still a possibility, though I have stopped thinking about it. Not knowing is getting in the way, actually. But I start where there is no question, like piling the rotten wood on the curb for special pickup, and all the stuff I can find that just needs to be thrown away, gotten out of the way. All things I would have gotten to eventually in the course of re-doing the house for ma, but needs to be done now. Its also clean-up from the last job I did on the house, clean-ups that were on my list of jobs to do as I continued the work I'll probably never do at this point. It was psychological, to make obvious progress, to really start the final job, throwing things away that I wouldn't be taking with me.
Though it was hard. I broke up a rotten sailing skiff that I'd never completed, that I'd started back when I first got he steel boat. I'd used it as a row-boat, used it hauling huge loads when I shifted from place to place on the water. Did a couple rounds of repairs even. But never a chance to finish it. Brought it up here to ma's house. Where finally, maybe away from the salt, it just rotted. Not totally, but too much. Some parts were still hard and strong, others crumbling. I hacked it up with an ax and set it on the curb. Thinking about all the dreams that got derailed back then.
What I'll do with the other boats remaining from that time, should I finally just get rid of them, leave them behind, unfinished, like the Hurley I raised from the bottom, took away from old Davey Jones, but haven't finished repairing yet. According to plan, I got it here, then got to work on the house, intending to get to the Hurley eventually. In fact was thinking of getting it or the kayak fixed up and in the water, start moving forward again, as I wrapped up the music projects. It was a long-term plan I was working on. Or the steel boat, still never completely finished, though I lived in it for years, traveled a good way in it, and enjoyed the trips.They are also still all the remains of a very bad time in my life, a lot of broken plans and dreams from the last time I had a girlfriend, over twenty years now. It was always a question whether to clean the slate and start over just because of that, there are many boats out there, and these are solidly connected to one of the worst experiences of my life, and biggest mistakes. I've never been with a woman since. Though I tried a few times, never got very far at all, not much trust, a lot of fear, knowledge, of what getting involved with the wrong girl could do. Knowing that I am too committed to everything I do, including a relationship, or a boat, which means I don;t just walk away when trouble hits, instead, I'll almost die trying to keep them from downing. At least I have that limit. Maybe I shouldn't have asked them to come into the deep water in the first place, when they might have been happy in the shallows. Most likely, they would have drowned there anyway, but I wouldn't have been there to see, not had to try and help them and get dragged into their messed up world, myself. Beyond the pain, it was learning that the wrong girl, someone who, no matter what she thought, couldn't live my life, was way worse than no girl at all. And I had to either find a girl who could, who did, live in my world, or live alone.Yes, it certainly isn't all about this latest girl entirely, or even mostly, and I know it. Though it is hard to say, she was one of the few I won't forget.
It is that and the boats, and so many things that I never was able to do, even the music projects that still stubbornly resist completion. Or the house and homestead I never built. There are many things like that in a life, I am not special or unique in this certainly. But the work for a time makes me see too much of what didn't work out, even if hat was my choice. Or didn't work out, no matter how competent and committed I am, because of other people I depended on to keep their lives together, whether the girl I was with, or the guy whose boat dragged down and sank mine, because he didn't anchor it right. Or the whole American culture that has destroyed the world, while I have lived without much of what it had to offer, lived simply, consumed little, but they are many, and I am one of the few.
It is a dark and well-known path in my mind, one I need to force myself away from. Try to dwell on the positive feelings I had for the future, instead, and on the fact that this is just another job to do, and I can get it done, and it will be behind me. The feelings can pass through me, but they don't stop me, it is another road I have know well. And eventually, it will be done, and I will be on a new road. And I have looked ahead, and really, no matter which way things turn out, stay or leave now, or leave later, it feels like I have a positive outlook, no matter what. All I need to do is get this done, and then I can start on what is next. Especially, I can start playing again, get back out west, to Alaska, and the sea, and the life I loved, the world I loved.
Maybe it was the distraction of the hard, painful thoughts and memories of lost dreams and plans, all the efforts I made that in the end came down to rotting away. Facing the fact that no matter how hard you try, if you are not going there, you won't get there. But I even started throwing away things I shouldn't have, though it doesn't really matter. When I rebuilt the first part of the house, I re-wired as well. And when I did, I saved every scrap of wire, from the old wiring I took out to the short ends I clipped from the new wire as I completed the re-wiring. Also all the plumbing pipe I replaced. Saved every scrap. And when I replaced the furnace and AC, I saved the old ones, stacked it out back the last couple years till I could finally strip it down and take it to the scrap metal dealer. So I started on it. Stripped out the electric motors and started stacking the sheet metal, and rolled the heavy sheet metal remains of the furnace out to the street. In a couple days it was all gone, picked up by someone passing by. It made me think that I needed to do this right, as I'd planned, no need to just throw everything away. Woke me up. So I cleaned out the sheds, and gathered up all the copper I'd saved, and all the sheet metal that remained, stuffed it all into the Toyota till the wasn't room for more. I took to down to the scrap metal dealer today, got $205.00 for it. Good enough. It made me feel good, to follow through on what I had started. And that I'd done the job right, saving this valuable scrap as I did the job.
It did make me realize to that one of the dangers of this job is psychologically, throwing away things I gathered for things I'll never do, or just aren't worth carrying along on the road. I will be going back to when I first dreamed of buying land for an organic homestead farm, building my own home, raising horses and honeybees and fruit trees, having a family. All old,lost dreams now. But this house, literally, is the attic of my life. Where all the things stayed that I left behind. Some because I was given them and couldn't really use them. Or all the things I thought I would use one day, but never did.
Though ma and I talked of this sometimes in the last years. That I had left this place behind, long ago, and gone west, left the east coast, only coming back to visit her mostly, and my sisters in passing. Several times she asked why not go ahead and settle down, use the money I'd get for my share of the house build the house and homestead of my originals dreams, before I gave up on a personal life, and chose a life of service and voluntary simplicity on the street and on the road. It is a long story. But in the heart of it, that is what I intended to do as a homestead farmer, a counter-culture life of voluntary simplicity, appropriate technology, and deep culture, carrying on in the philosophical path of Thoreau and the Nearings. Though I really do want to go back on the road, perhaps more because missed it, and the west, being here so much the last decade. I have to remember my own philosophy, to see the energy am seeking behind the dreams and images that I use to remember them by, see through them to what I really want, the energy I seek.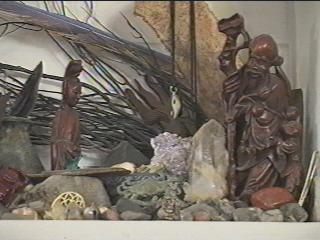 And of course, there is the music.
I've always listened to the wisdom of her thoughts, though sometimes she didn't understand, other times she was dead on, or gave me an important extra bit I was missing. It is never too late to live a dream, settle down somewhere. That I can change what I do without changing what I am doing. That I can have chapters in my life, and not to fear embracing something new, or leaving something behind, as it will always be part of my life. It is why I bought the land in Alaska, knowing I couldn't necessarily stay on the road forever. Though she also understood that I didn't want to stop playing, any more than she ever wanted to stop acting. As always, the question was how to manage it.
Though I am focused on what I can count on, that I have to be out of here in a couple months, there is no clarity in the situation, yet, and it may be that I do stay here, buy the house and finish the job I started. Then everything is different. But I can't count on it, and though it might be a great thing, it might not. I don't know, and I have no clear, rational response from my relatives, except my brother, who has been cool, even as he goes through a hard time himself. In fact, after all I have done here for my sisters, I haven't heard much of anything, and half the time I wonder if they even read my emails, as I meticulously report everything I am doing, the options we have, and the decisions that need to be made. I try to understand, they are who they are, and let it slide by and keep working. Eventually whatever happens will happen, because it has to. But so it goes, I just get it done, one way or another.
Personally, I am ready to leave this place behind just to get away from all the irrationality and negative energy I've gotten here lately, the lack of help, the lack of appreciation, the sheer craziness on the part of some of my relatives. I can't count on them, can't even really trust them, don't know what they might do, and they have done so many things that I feel aren't right, in any shape of the word. I try to be compassionate, and understand at least some of what is behind it all, right or wrong. They are just human, imperfect, as am I. But I am still tired of it. I long to have this all behind me, be out west, or on the water, back to the life I lived before I came back here, the live I evolved after I left here decades ago. This is not really my place, though I could make it work. I want to be back in Alaska, and out west, Montana, Seattle, Washington, Oregon, and the Southwest as well, back to the mountains, deserts, and canyons I called home for so long. I'd rather be camped under open skies and wake up to the sounds of nature, not machines. I do not long for solitude, though I don't mind it, and nature is always there, so much life. I am more alone here, these last years, though ma was great company. When I do meet someone out there, they are more likely someone like me, a person who loves the wild, or is part of the counter-culture. Though I have met many good people here, they are not like me, can hardly imagine what my real life is like, and I can't imagine theirs. I have never worked in an office, or had a regular job. I just don't belong here, simple as that. I belong at sea, maybe in a harbor town, but anchored out, one of the boat-people, the cruisers, the sailors. Or a place like Alaska.
It is just different worlds, physically and culturally. I may visit a place like this, but I can never really be part of it. A simple truth.
So I have turned my back on this place, just to get moving. I have to have a plan, and that is to be gone in a few months, with a new CD, ready to deal with the boats next. I have stopped trying to go out, to get involved with anyone here, though I appreciate and am thankful for the connections I have made here. It is just time to go, something I always knew would happen, was always in the back of my mind. I have always been a gypsy, it is a familiar feeling. Though this is and has been a lonely place for me. It has been so great to have the visitors I have had. But it's not bad, I have worked harder under worse conditions. I simply focus on getting it done, step by step,
and moving on.