"Jammin at the Tree"
8 min 22 sec, 93.7 MB Flv
available on You Tube

Associated Websites
The Arbor Day Foundation
TSI – Tape and CD manufacturing
The Harry Fox Agency
DC Area Folk SOJO (Sing Out Jam Out)
S.A.W., The Songwriter's Association of Washington
It has been cold, and warm fronts have come through to give us rain, sleet, and a little snow, before going cold again.
The woodstove feels good.
Well, once again real life gets in the way of both the music and this journal. I'm almost a week late already, though I could say I was out of town for a week contributed. That and other things. As I got into it a big decision was whether to go ahead with a video studio journal or just write something quick and short with a couple pictures and move on, getting back to video with the next journal. When I was starting to write this, I thought, I could just get this done in a few minutes by doing a quick live-version studio journal, telling folks what's happened instead of writing it. But of course, I still have to write a cover page (while the video is mixing down on the studio computer) and doing the video ended up taking a few days rather than minutes. But it still did move me in the right direction, and keeps my vision of content going and my decision to not worry so much about deadlines, though they are still the best concept. Even though with the lack of time and the old gear I have to use, it is s than perfect. I am reminded of what I said to people about the "Introducing the Electric Hammered Dulcimer" videos, and real all the videos I've done in the past year or two. It is literally "better than nothing", which is the other option.
As I expected, I spent most of the last couple weeks still working on the practical priorities here with my family, one reasons I set up base here in Virginia was so I could help my ma especially, but also my sisters if need be. The good news is that I have really gotten through the majority of the major work. As I posted the last journal, I finished planted a dozen trees and shrubs around ma's yard she got from the Arbor Day foundation, native understory trees and small shrubs, flowering ones that provide food for the wildlife to replace some of the over-abundant exotics in the natural landscape of the yard. Specifically, I planted Sassafrass, Serviceberry, Dogwood, Hawthorne, Goldenrain tree, dwarf Crabapple, Eastern Redbud, a Crapemytle, and another red maple to replace an old Gum tree that has to come out sometime soon. Then in a couple days of staying up till 4 and 5 am I did the second Alaska Tour Journal and the last studio journal and got it all uploaded. And I went to my other sister's for my brother-in law's birthday and more xmass presents. We have a pretty broad celebration here that runs from Solstice to the Chinese New Year, the mid-winter celebration. The next day I was on the way down to my sister's to replace her blown out plumbing.
It took the whole week, including another night working till 4 am to get everything cleaned up outside before it snowed. I was lucky in that it was above freezing for most of the time. I also only had to replace a short bit of piping inside the house, tearing a hole in the wall inside a bathroom cabinet. A tough place to work, but by carefully cutting the pieces out I was able to replace them with some tape, hidden out of sight inside the cabinet, and avoid a big drywall and painting job on top of the plumbing replacement. Most of it is done in the cold, wet mud of the crawlspace, oh boy! But I get it done. I installed multiple shut-off valves in the system so if any part of the system goes in the future, it can be isolated from the rest of the system so she still has water no matter what. When something is broken, I fix it, fix it right, make it better. That's the way I do things.
I get back late and sleep about 18 hours, get up and clean up, unpack, wash muddy, wet clothes and get back to work. The first job is to clean the chimney, since the fire is out with me gone, then cut wood and get it going again. I've had to burn what I could, not well cured or dried, so more creosote. And it is just three months since I cleaned it when I got back, mid-winter cleaning. I mix down a new solstice tree video and post it for my relatives in Austin who couldn't make it here this year. I used the rough mix of Little Friend I did before I hurt my shoulder, sort of an echo of what I did last year, using the same song on that solstice tree 2000 video.
On the practical side, I got in touch with TSI, where my CDs are produced, and approved the proofs for the corrected artwork for the latest printing of "A Hobo's Dulcimer" so they could finish that up and ship them out. I also went through the process and paid for the mechanical licenses from The Harry Fox Agency for the standards I used on the CD. It doubles the expense of the CD, but it is part of the bigger picture. I want to do CDs of standards to show how I have applied the dulcimer to modern music, and th styles I have developed. The way you do that is to use standards so there is a basic for comparison, and so the songs are familiar and people can focus on what I have done with them, and lt the familiar melody and words of standards help them follow the unfamiliar sound and style of the dulcimer. The two CDs before "A Hob's Dulcimer" were one of originals and one of traditionals, as the next CDs I do will be, then I'll do more of standards, and maybe some thematically-based CDs, that mix all three. We'll see.
I also spent hours finally catching up on a couple hundred backlogged emails, some going back to last summer.
A couple days after I got back I was finally able to get back to the music. I started to tune the dulcimer again for the first time in a long time. That took a couple days. I got back to work setting up the new video studio, buying and setting up more black curtains for my "stage" in the old livingroom. More important, I brought out the studio mikes and mixer and ran cables out to the livingroom from the back bedroom where the studio hardware is. The concept is to be able to record the audio with the studio, and get at least a chance at studio sound to go with the camera, get around the problem with dropouts, and be able to record and mix multi-track video.
Over the weekend, I tried to get out and network and socialize after the long relative isolation (or isolation with my relatives?) over the holidays. Though it was really just that there was so much work to do.
I was going to finally get up to a Saturday jam session up at Breasia Studios, hosts of the P.A.R.C. Meetup, and check out their set-up, let them hear what I do, and just jam. I still miss playing with other people. It was canceled, hopefully because they had a paying customer! But I was able instead to jump in the car and get over to the S.O.J.O. sing-along meetup group in Crystal City in time for the last round. It is still a great group. I was at the first meeting and have gone off and on for years, and it has become a nice solid group of people who just like to sing together, with any instruments people want to bring, mostly picking songs out of the book "Rise Up Sining", which I happen to have had n old copy of. Actually, I remember where songs are in it. The problem is that the version I sing may not be the same as the version in the book. But I can follow other folks. Sometimes I just like to listen to others sing. Sometimes I take the chance to jam with the flute, something I can't do on my own. I've shown up there after being up most of the night, not keeping the lid n so tight as usual, and they've always been very tolerant of my mildly crazy folksinger ways, when I hit the switch and all this energy just pours out cause I'm too tired to keep it under control. At least, it is good energy!
Sunday, I went to another S.A.W. (Songwriter's Association of Washington) event. This time it was a jam circle at a member's house. It was ok, but not great, a mixed bag, a little strange, a little weird, a little boring, even. Some people weren't very friendly, perhaps ego, perhaps just the way they are. I was also an outsider in a group that all knew each other over a long period, so they spent a lot of time talking about things that had no connection or interest to me. They are also a bit industry-oriented, rather than indie-oriented. Which is ok, but not my interest or my world, so again, a lot of talk about names and places without meaning or interest to me. I wait patiently through it all, but spent a lot of time waiting for music to start again. And when it did , it was more often not inclusive, a song showcase more than a jam. Which is ok, though not what I came for, really, and I didn't stay late, leaving at the break. There were some nice people there, and some good songwriters and performers, so not a bad afternoon. As I said, a mixed bag, so it goes.
I return to find it is mid-month and I haven't really started on the studio journal and there are more chores and jobs to do. Like baking bread, always a pleasure, the smell filling the house, but also a time-consuming chore. Like cutting firewood, or cooking up a batch of vegie-rice stew, or just house-cleaning. I have to remember that the main reason I am here is to help my ma, and the fact is, that takes time, sometimes a lot, sometimes a little, but always something, every day, to make her life easier. I've taken care of a lot of big jobs, but there''s always regular chores, and new jobs coming up, and a long list of work to do on the house if I have a few hours free.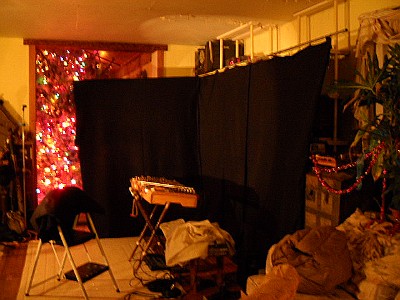 I keep working on setting up the video studio, and start on the studio journal. As I start writing it I decide to just try shooting a quick video studio journal instead. When I first moved the video studio "black-box" to the old livingroom to set up the tree, I thought about trying to use the tree as a backdrop for video as well, since it was up, and it is just beautiful, all the colored lights, just like the lights of the stage. So I move some of the gear over to the tree and try shooting. I run into some problems right off. I can't seem to get a signal through to the studio computer. Somewhere something isn't hooked up. But that is one reason I decided to start working on something, in order to figure out how to make t all work. I remember sitting down as I had most of the gear finally at the new location and feeling overwhelmed by all I had to try to figure out, still hobbled by the problems of having no one to monitor, no way to see how it looks through the camera or monitor the sound while I was videoing myself, and so many possible ways to do and and no idea which to chose. The next day I felt better about it, mostly just by thinking that I have time, as much time as it takes, to figure it out, and eventually I will. I have a better set-up than before, like with the mike mixer moved out to the video studio, I can monitor that in my visual range, unlike the camera. The details aren't so important. Eventually, even through trial and error, I'll come up with the right formula to get a good audio track for video, what mikes to use and how to run them, how to set them, and too many more little details that make big differences. So onward to the glory of experimental error!
When I moved the video studio "stage" to set-up the tree, I said that at least could use the tree as a neat background to shoot some video there as well. So I decided try doing it for the studio journal, see how it looked, see how it sounded, too. I can't get the connection to the studio to work yet, so I just try adding the studio mike to the camera, recording on both channels, running a vocal mike and the dulcimer through my small amp set beside the dulcimer. And hope I don't lose everything to audio drop-outs.
I did three takes and was lucky, only one was full of audio drop-outs, though I still don't know why. I thought of just running it a it was, a quick, simple live journal. But the truth is it was late, I was tired, I rambled, lost track, said "umm", "and" and "you know" a lot. I'd get sidetracked, go off on another track, come back again. So it goes. Also, I had some good parts in even the takes that I chose not to use, including the one with drop-outs. So I decided to mix it, even though it took another day. But now it is done, not perfect, good enough, and it keeps me moving on both developing the vision of the journals and getting started on working in the video studio. Before it is time to go.
I also took down an old dead tree next to the house. A tricky job, and I'd left it for wildlife habitat, but lately it has gotten scary. I could push on it and make it rock. I was worried enough in the last ice storm that I took a rope and tied it off to a tree away from the house and the driveway for safety. I look at what I have to do before I leave for Florida, including repair the van. I start wondering what I am going to do about my boat, and the bigger picture of my life that it is part of. I have to start thinking ahead and planning ahead for the summer, think about festivals. As it is, I let Florida slip, so my basic option there is to find a street scene somewhere. I know it is because that is what I have always been able to depend on, while everything else hasn't been very practically useful. I have both confidence in what I can do, and the fear that I will be hassled and not be able to find a place to just play for a while, and wander the state instead of making money to pay for the new CDs. Life was simpler, once. I had regular places I played around the country. I knew where I would play, and camp, and how to get around. But I chose to leave that behind, unfortunately, I seem stuck in a sort of limbo between my old routine and a new one as I try to get the promo material together to try and "do more" with venues and festivals, move beyond the street, play for more people, more places. The street is always there for me if I want. If the cops don't run me off!
Well, I have plenty to do before I head south, and I can worry about Florida when I get there soon enough.