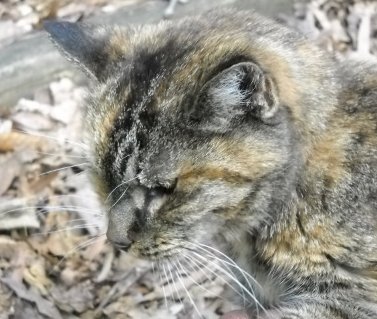 Sienna: September, 1989 – May 8, 2010
How much truth do people need? That is always a question. The simple truth is that I didn't want to talk about this underlying situation that was troubling me here, that my companion cat of the last 20 years was going downhill over the last couple months, more and more frail, less and less energy, though still getting about and checking out the world. I knew that she didn't have a lot of time left. I wondered if she could survive rigors of the road again, though I knew she wanted to go, and I didn't want to leave her behind to spend her last days without me, her lifelong companion. She took to sitting by the van, and climbing to sit in her usual spot as I packed, not wanting to be left behind. So I couldn't. It might have been even fitting for her to die as she lived, on the road, or out on the boat. But I wanted her to be comfortable, and this was the easiest place for her to live, a house, rather than trying to climb around a boat or in and out of the van, dealing with weather and heat. I didn't want to leave her here as well and force my ma to deal with it if the end came. So I had an underlying reason to stay here, one I couldn't put into words before. Perhaps because I couldn't say for sure, didn't want to, though I had faced the truth myself, it is a hard thing to tell to others.
So we stayed. There were always, luckily, other real reasons I had to stay. After the hassle repairing the van took me to the end of last month, then there cam the fiasco of getting fiber-optic cable run into the house and transfering all the stystems. I definitely needed to be here in the end, and there were weeks of delays, mischeduling, miscommunication (not on my part) and general bungling by the company, Verizon. So it goes, these days. I had similiar run arounds getting the cable installed back when. Originally it was suposed to be the first week of April. In the end, it wasn't done till the last day of April.
It was, though, a providential delay, because at the middle of the month, the transmission in my sister's truck went, and I am the family mechanic, generally. Unfortumnately there is no easy fix, and the trani is rare and expensive, a single year model. Also, it would help if she had time to get money ahead for a major expense like this. So ma and I came up with a solution, where she loaned her car to my sister, and I loaned my spare car, the Toyota, to ma, like I did most of last year till I found a used Honda Civic for her. So I had to do the repairs I had intended to put off as long as possible, maybe till I got back from Alaska in the Fall. I'd worked on the van instead, since I needed my live-in rig for Florida. So that kept me busy for another couple weeks, since we'd made the swap immediately and ma was using the car a lot. I was packing the van and spent a few days planting the garden, again, the seasons had caught up wih me.
But at this point, the crisis came for Sienna. Though the last thing she did was catch a bird and eat it, it probably made the mistake of landing right in front of her. She hasn't hunted actively for a while, but landing in front of her was a bad idea. It wasn't odd she skipped dinner, or that she was restless that night, she's been restless many if not most nights for a while. But the next day it was obvious she was seriously sick. She didn't eat or drink that day, and was totally out of it. I wondered many things as I sat with her that day, followed her around as she wandered from place to place. Maybe she had a stroke. Maybe it was food poisoning, or a young snake I'd seen around the yard. But it looked bad. She kept wandering out into the street, to head for a place where the well overflow pumpout creates a running stream at times, or a puddle at least, the prefered water source for a cat that had lived outdoors with me most of her life. Though it had shrunk to mud. So I built a little bit of running water with the hose and some bricks and dish for a pool. The sound of the water stimulated her to drink, and she drank a lot the second day, and lay in the water. She used to do that often enough, in hot times, or just in the rain. But now it was trying for relief, from fever maybe. She was not well. She'd get up and stagger around like a drunken sailor, one place to another, trying to be comfortable. I followed her and kept an eye on her, sat with her, walked with her. I had called the vet, who were busy with emergency surgeries, and made an appointment for as soon as possible, at 3pm the next day.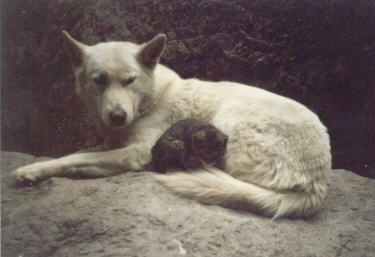 I spent a lot of time reminising about her life, all the great things she'd done, travelling fom Florida to Alaska, saved from being drowned in a river in near the border of Washington State and Canada by me, then raised on the road in my VW van by my wolf-dog, living on a sea kayak, and on various rafts and sailboats, hiking through mountains and deserts, living on sea islands and north of the arctic circle, and in cities and towns along the way. A truly exceptional cat, ready to jump out of the car or dingy when told, disappear into wherever there was, and be waiting come evening to appear at a call and jump back in. I could visit people and she'd behave perfectly, noble and aware, and know this was where we were at for now, settle in. And always ready to explore, ready to travel, and taking it all in stride, sun and storm, road and house, town and wilderness. I have so many great memories of her. I can only feel priviledged and honored to have been companioned by a cat like her.
So while some people might wonder that I put her needs before my own, her life ahead of mine, I don't question it at all. Though it is the general philosophy of my life to put others first, to serve. Still, this goes beyond that, for I owe her a great debt. I have lived a lonely life, and she has been my only companion for a long time. Asking little really, and giving much, and dealing with my life with grace and charm and strength. For me, living at this non-verbal, emotional, intensely aware state of being is just natural, where communication is by rapport, not endless words. Where words are a simple vehicle for sounds and feelings, and simple information, not an end in themselves. It is a deeper world, more real, and that is why living with animals is good for people, since so many are disconnected from that natural consciousness, that way of relating. And it is just as imporatnt wth other people, to be able to communicate with silence, with the smallest expression, gesture, and body language, to be together, initimately aware of another's presence, even as you are intensely aware of everything around you.
I realize these days how really alone I have been in this life. As I stopped performing for a year, I had to recognize that my social life was when I played. That is erhaps why I liked the street so much, because it is all about personal interactions, face to face, on the same level with people, with time to talk as well as play. It was a great way to meet and talk to people, better than many. But outside of public I had few friends, and I always deeply appreciated thoose who went out of their way to give me a place in their life in the time I was passing through. And I have had a few friends through the years, and my family, who realize I am what I am, and that I keep coming back. Or maybe that I never really leave, I am just travelling in bigger circles than they do, but as routine as the seasons, as sure as the geese I follow, and part of me always remains. But my companions were animals, people in their right, animal people. I even got on well with wild animals, who often accepted me in ways that it is hard to explain. I think St. Francis would understand, and many an oriental sage and buddha. But for my only real life-long companions, I had my wolf-dog first, and then as a companion for her as well, my cat. Then it was just me and my cay, travelling the country, from the arctic mountains to the sea-islands of the Gulf and the Atlantic in the end. So I have to face the fact that I will really be alone now.
Though I will not get another animal companion, though maybe one day I will, I have been planning for this chapter of my life for a while. I always planned to do many things that were not compatable with my animals after they were gone. Travelling the world, is the major part of that. But also, travelling into places where I'd have to play inside, and live inside, because of heat or cold, rather than living in the van or the boat, which is fine in the right weather, and I followed that weather around the country. It was good, north and up in summer, south and down in winter. But though I knew it was coming and planned on it, I am now facing the fact that the page has turned, and I have to really begin this new chapter. It is not something I am planning or expecting, now, but something I have to start doing.
This has been a troubling time for me, with many frustrations and pressures. And though I couldn't really put into words, beneath it, straining my emotions, was knowing that I was losing a life-long companion. I am a sensitive and emotional artist, and it is a difficult thing, facing the passing of someone you have known so long and shared so much with. I accept it, and do not grieve for her, who is beyond pain and trouble now. But I still cry, because that is the way we are, and it is natural, and I am very much that. I do not weep a lot, but as with everything the feelings run deep and strong. I will miss her. I shed a few more writing this. I feel that tightness, feeling the void in my life now that she is gone, a painful thing. Though I feel goodabout it as well, a great life, and I accept nature as well, life and death, it is all one. We are all passing through, and no energy is lost. I am glad to have shared the time we shared. But it still was there, every day, as I watched her weaken, and accepted that she probably wouldn't make it through another year. And then that year came. And her time came.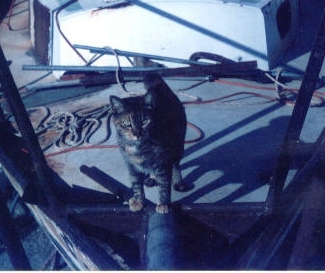 So, yes, I was putting off leaving for Florida, and bigger changes, to keep her comfortable, spend time with her, when I could have possibly pressed on quicker. Though the reality was that most of the delay was really beyond my control up till the end. And in the past months I have gotten up at night to let her in and out, let her wake me several times a night just to crawl under the covers to get warm for a bit, get petted a bit, sleep lying next to me while I purred for her. I checked on her during the day to make sure she was comfortable, let her sit on my lap at dinner, and every little thing I could, without giving her more than she wanted, as she reamined a self-aware, self-contained, secure person, needing me , but not always in need. And in the last days I walked and sat with her all day, sat with her on my lap as long as she wanted, even carried her around so she could check out the world, kept her artificial spring dripping. She always liked sitting out at night, and did now as the weather got better, the last couple weeks, and I would sit with her. This last night I got up in the middle of the night to walk around with her. She went to a favorite place at the foot of the statue of the woman beneath the juniper, and I sat in the van and remembered. I thought about roses, and flowers, and the passing beauty of life, wrote a poem. And I remembered, so many memories of her.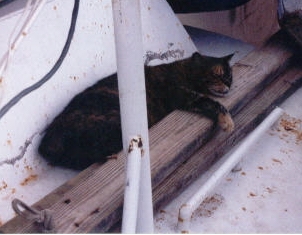 The next day went as before, though she wasn't drinking again by afternoon. She was still failing, and though I wouldn't absolutely give up hope, it seemed it was her time. Though she was more lucid now, she couldn't get comfortable, and walked a lot.


She walks a lot, restless, or resting in her favorite cool places, by the spring I made, and by the wellhouse, and the juniper woman. A thundershower came and she asked to come in the van as many times before and sat in her usual spot by the window, that I had prepared for her as I packed. Though it had become obvious she probably wouldn't be making another trip.
That afternoon, the vet agreed that she was failing, for whatever reason.. probably kidney failure. When I set her on the weigh table, she was down to 3.5 pounds from 8 a year before. It was what I had been seeing. She had lived way beyond the usual lifespan of a cat, and had a great life, but no one lives forever. The vet asked if I was ready to let her go, and I knew I had never held on to her. She was my companion, not my pet, and I basically let her do whatever she wanted, pretty much. In our life in the wild, everytime she asked to go out, it might be her last, but it was her choice, and I'd let her go. Or on a strange city, or off under the docks of a harbor town. Or in her final year when she was getting weaker, though still getting about ok, interested in life, and still going out the window at night, where we have foxes and owls, and always managing to appear back on the windowsill to scratch to be let in again. I always said that as long as she was enjoying life, I didn't mind arranging my life to suit her. But she was beyond that now, and time to ease her out without pain, and let her rest in peace.
I buried her next to the new weeping cherry, between it and the juniper bush where she so often lay at the feet of the stone lady, with her head facing west, where she was born and we'd spent so much time together, next to the driveway where the a rig and a sailboat she had lived and sailed on were parked, and many of our rigs had parked, ready to head out on the road. The van is packed now, I'll head for Florida tomorrow. But she has another road to go, now, and she has left me behind, this time, to shed my human tears, and remember how great it was.
Fare well