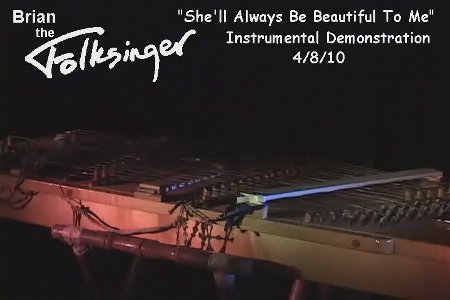 She'll Always Be Beautiful To Me
Demonstration, Original, 3 min 31 sec, 13.4 MB Flash Video
smaller screen version available on You Tube
This is one of a series of fourteen electric hammered dulcimer demonstration videos, described in detail in
"Instrumental Demonstrations: Sounds and Rhythm Styles".
The second version of this song, perhaps a better version, more evolved into an instrumental piece. This song naturally has a very instrumental rhythm when I play it, so I chose it to demonstrate something of what the dulcimer would sound like as a solo instrument or playing lead, in this almost fluid classical style. This version is without the acoustic sound of the air mic and I would have used only this version if I hadn't included the other for the comparison of recording technique and its effect on the sound.
I also play instrumental leads that are more derived from the unique qulities of the dulcimer, with more percussive syncopation, trills and rolls, instead of simple melodic lines. You hear some of both in this rendition, a good example. Though as always, I can't begin to show everything the dulcimer can do.