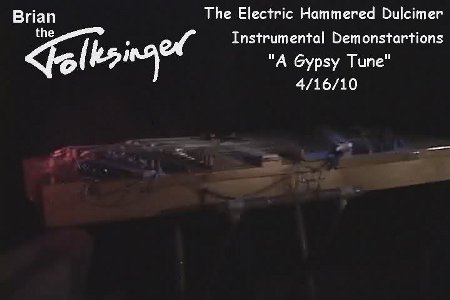 A Gypsy Tune
Instrumental, Traditional, 3 min 35 sec, 10.6 MB Flash Video
smaller screen version available on You Tube
This is one of a series of fourteen electric hammered dulcimer demonstration videos, described in detail in
"Instrumental Demonstrations: Sounds and Rhythm Styles".
This begins the part of the series where I play an instrumental version of a single song. To give a real demonstration of the dulcimer as an instrument, I need to show more than just sounds and rhythms, but how they come together to make a song, all the variations that go into a single piece.
I have recorded this tune before, and perform it still, and I usually combine an initial instrumental section with a second part where I sing the melody wordlessly while playing a rhythm part on the dulcimer. I also wanted to demonstrate as many styles as possible, so I improvised some using a style of rolling trills that I use on other songs, just not usually on this one. This is still a demonstration, not a performance. Though I can't help but get going, though I a least start out trying to be slow and deliberate to make each note clear for the purpose of demonstration.