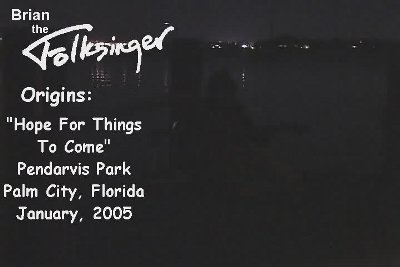 Origins: Hope For Things To Come
Origins, 4 min 41 sec, 15.9 MB Flash Video
Origins are a series of videos that capture songs that I've just written, often still unfinished and rough, but essentially there for the first time. This is another side of the music, how song begins rather than where it ends up.
I have been working for months, from late 2004 into the Spring of 2005, raising my sunken sailboat. Day after day, in the cold water and mud, it was a hard job. The whole story is in the ARCHIVE section of the website, as "Rasing The Hurley". In the evening after dinner, I would go down to the little dock there and sit and play guitar sometimes, while letting my cat Seinna roam for a while. I'm winding down after the latest effort, waiting to digest a bit so I can go to sleep. I'll be up at dawn to get to it again.
I'd been camping here in the park as well. A relatively isolated life as I work all day, every day, and really known no one and have no time for a social life. But I have my guitar and the music. The park closes at sunset, so I am alone with the dark water, looking at the lights of Stuart across the river.
There is a lot of time to think as I work, as I eat my meals and get ready to sleep. This song is a simple reflection of those thought and feelings, not just the present loneliness, but the life alone I have lived, always hoping and planning to meet a girl to be with, but never finding her. I don't ask why, don't know why. The song balances dreams and realities, pragmatism and hope, acceptance of the way life goes, the reality one has to face, with the reality that there is always hope for things to come, though sometimes that is all you get, so you have to live with that.