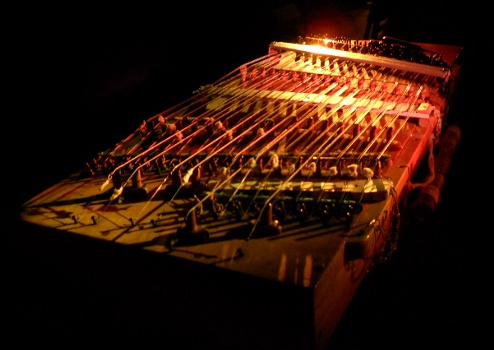 Associated Video

The Electric Hammered Dulcimer
It is hard to keep up with this, with all there is to do trying to get out of here and head south, but luckily, there also isn't much to say because I am mostly working on the house and the van rather than the music! Also there's been out-of-town visitors the last two weekends as well, which is cool, but it takes time. My friend Danny and his wife Mary were down from Boston this last weekend, and helped me finally take the tree down, so the new year is definitely started now. I've also decided to repeat my usual schedule and just go to Florida and stay for the season, probably till May again. It is cold in North Florida, so I'll go later and stay longer. It means a bit longer here both to take care of chores before I am gone for 4 months, and to pack up more gear. I realized that the main concern was working on recording and performing, and that it will take more effort and time to set up down in Florida than keep working here. The real main priority of going to Florida though is to spend time with my Dad, so in the long run, I just have to make it work, or accept whatever compromises or delays it entails.
I did sit down late at night a couple times and finished the final cut of the introduction to the electric hammered dulcimer video. I got it down to about 5 minutes and 23 seconds this time which is good enough. That is as far as I'll go, now I need to move on to other videos before I go, or at least shooting the raw footage. Though I realize I can pack up the curtain and lights as well and maybe find somewhere to set up the video studio in Florida as well. But do I need to? I supose it is a small thing to do to keep my options open. I really want to make more video studio performances, and maybe I can find people to play with down there. It is an amazingly simple but effective set-up. I thank my early training with ma in theater, learning how to make do with whatever works, making stagelights with tin cans and gel.
Next I want to add a video introduction to me as a performer, though it will be a lot of actual stage footage as well, showing me in different venues, but also examples of all the different music I play. Then a "meet the artist" interview, and finally some video studio performance videos. It really looked good, the shots of me playing, in the first video. You don't see any of those angles in the live performance videos, and the stage lighting was great.
Though it is really about the bigger picture of completing the website so I can start promoting with it and leave it behind for a while and return to performing and recording. It is almost endless though. There is still a lot of the website to recode into modern standards, if I ever do. More important, now the focus has to be on the greater web presence for which the website is the foundation. Sometimes I am so tired, just feel like it is more than one person can do. I haven't played in months now, and it is driving me nuts. I really do long for my old life when all I had to do was play, and the street was good enough, giving me all the money I needed, and letting me play for hours and hours without having to deal with any of the business. It is true it was a hassle, often enough. The street is the street, between the cops and the dregs, it can be harsh. But then there are the people, all of them, from beggars to princes, out on the street. And mostly they are good folks, with their own stories to share. I always loved being out there among the people. Even if I have spent so much of my life alone in the wild, I spent the rest of it on the streets and in cafes, on the docks and beaches, at the fairs and fests, talking with the people I met along the way.
I miss being around people. This internet and studio life is like a hermitage. I know I could and should go out, but I feel under so much pressure to be productive. And feel so frustrated that I have still hardly begun recording. And there's a continual list of other jobs to do from the house to the van to writing to my president and congress people. I baked bread today and swept the snow from the walk.. I better do that again before I sleep. I'm making some inquires to Alaskan jewelers to see about selling the gold nuggets I have left, though I should start working soon in Florida, I would like to be a little ahead of the game. It is the usual thing to have to run up the credit cards getting to where I can work, but usually I am more ahead from the Fall touring. As it is I have just broken even for 2009, a major accomplishment when I hardly performed all year. Though that is really the biggest problem, the biggest drag on my spirit, that I'm not playing. I gave up everything to play, and I live for the music, and without that, life really is empty, no matter how much work I have to do.
One unfortunate development is I found out that they never got the CDs I shipped to my digital distributor, The Orchard. So while I thought tracks from my 2004 CD "A Hobo's Dulcimer" were available through all the digital distributors, it was actually lost somehow in shipping or at their offices. They moved just before I sent the cds back in March of 2009, so who knows what happened. Now they have movd to digital uploads of the audio files instead of sending in physical CDs. That is good, but the system is new and I can't get it to work right. I had to find a different computer than this one just to make the site function and accept uploads. Then out of 11 tracks, I still have two that end up with defects every time I try to uploads them. I have checked the original wav files and they are fine, but I must have tried 5 times to re-upload the files and they keep having the same problem, with a obvious tweet or clunk just before the end. I am not sure what I'll do now, though I have to do something.
Danny was able to show me some physical therapy routines for my shoulder, though. He had a badly torn rotator cuff and went in for surgery, then did physical therapy. I can't pay for surgery of course, but luckily, it is not usually nescessary, and I can do physical therapy routines. But the pain still keeps me up at night often enough, though it is not nearly so bad now. I forget that this is what really stopped me recording, when it hurt too much to play the guitar. And all the anxiety about how this might effect everything, and whether it was an injury or something else, has weighed on my mind
Well, that is about it for now. Hopefully I'll be packed and ready to head for Florida the next time I write.