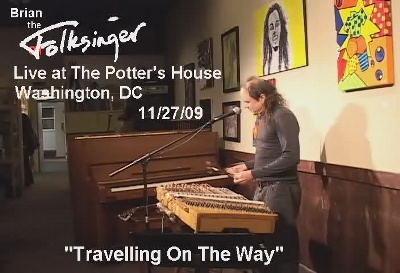 Traveling On The Way
11-27-2009, 5 min 35 sec, 35.2 MB Flash video
Live at the Potter's House coffeehouse-bookstore in Washington, DC.
The Potter's House was established as a manifestation of the "radical" activist theology of the 60's, as expressed in the civil rights and anti-war movements, and continuing to this day. While I am not a christian or even religious in those terms, I am spritually motivated, and followed a similiar path where my spiritual-philosophical beliefs demanded a dedication to social activism, and the struggle for peace, love, freedom, and justice. This was my first performance and first song there, and I wanted to pay tribute to both the spirit of the place and it's history by my choice.
I wrote this in the late 70's or early 80's, trying to express my spiritual-philosophical beliefs in a song. A difficult task, since a song can't tell a lot, and has to work with simple words and images that people can understand easily. Songs have to have emotional meaning and message as well that people can connect to. So the task was not to explain what I believed, but to express it, simply and understandably, not trying to say it all, but containing fundamental foundations that allow someone to understand where I am coming from. And in the end, it is trying to speak to people, to take feelings and thoughts they have and express them in simple terms and images they can relate to and make their own.