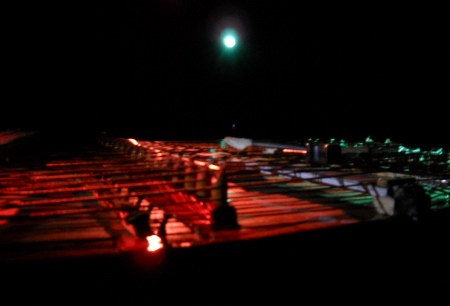 Associated Videos: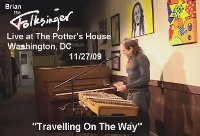 "Traveling On The Way"

"Sailors Daughter"
I'm almost tempted to do a video journal again, but there just isn't time. I've actually been working with video again a lot the last couple weeks. I was going to another open mike to shoot more video when I wrote the last studio journal. The idea is still to try and finish the website, fill in the gaps, so I can start promoting with it, not wait for the CD. So I went to the Potter's House and shot more video. But I came back and kept mixing down "Little Friend", fixing little peaks and clicks, tweaking it rather than changing it, till I got it done. Its not perfect, I found some odd bass rumbles in the quitar track, I don't know what from, but I have so much bass in th dulcimer I just rolled all the bass off the guitar and left it rather than go back and start over. The Flute is ok, but in the end, I prefered the versions emphasising the flowing continuity of the flute in opposition to the staccato vocals, which the present flute matches more. But it is good enough. though I will still tweak it more in the mastering. I need to move on and get away from it for a while, though.
The elephant in the room is my shoulder. It is seriously damaged, though I am not sure how, but started causing me a lot of pain and loss of mobility about a month ago, after almost a year of trouble. I thought rotator cuff, though now it seems more like a seperated shoulder that I just keep re-tweaking, re-injuring. Though its not much pain within a certain range of motion, it won't move beyond that, either just hitting something solid or causing serious pain. Then I move wrong or sudden and it causes blinding pain. like it did occasionally on a smaller scale for the last year. If there is one common factor it is the intensity of the pain, whatever I do that causes it and how easy it is to do. And I know a lot about pain. Pretty crazy. I did start trying to move things around, force it or try odd angles and twisted and stretches. I got something to move and click into place, and suddenly regained one range of motion. It alsom made everything sore whether it helped or not. And then comes a day like to day where I am awoken by my cat barfing on the bed. I try to leap up, using my right arm, and end up collapsed in pain for a bit instead. And now the shoulder is incredibly sore again. The point to all this, beyond the stress and fear factors, is I haven't been able to play guitar, to think about re-recording guitar parts or starting a new song, till just late last week when I finally clicked something back into place. It didn't fix everything at all, but to fix anything felt good.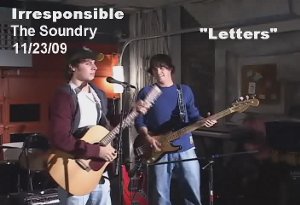 But video was dominating the list, though not for me. I am just dedicated to helping people, and I can't change even when my own stuff gets sidelined. Its not like I seek it out, the distraction, but it happens.. and even more, it seems like multiple things happen. In this case when I videoed a couple weeks back there was a student videographer there, so I offered to provide footage from my camera, and shot as much of the open mike as I could. Then I had to transfer all the footage to the computer from the camera, and take it through some stages of file conversion so I could be sure he could use it, since not everything can open the camera's sony dvsd .avi codec. It mostly takes a lot of computer time and hard drive space, but there are a lot of steps and many many clips so I stil spend hours in hands on efforts as well. Still, I got it all done and loaded onto about 8 DVDs in time to met the videographer at a meeting I went to the December 4.
This was an initial meetup for sound producers. It seemed split between live sound and beat-loop makers, but seems like some common ground in basic sound engineering. Its also just about getting out. Though in the end, I need to go somewhere involved with music, someplace I can justify the time for, even just an open mike or jam where I can meet other musicians and shoot video for the website.
Ah yes, the website. And the video. I wasn't done yet. I continued to process the video from the open mike. I'd done the hardest and most time consuming steps, to get it ready for the videographer. It made sense to finish the job and do what I usually do and complete the process all the way to youtube ready flash files for the individual artists, like I do for myself. I had all the filters and the process set up and ready, having just finished doing the ones form the last show, and then one from the Florida State Folk Festival as well. I just don't usually do so many at once. Twelve artists with two or three songs apiece, trimmed, titled sometimes, and run through the steps from .avi to .mp2 with .wav to mp2 with mp3 to flash with mp3 to finally flash with mp3 sixed to fit youtube specs. As I did it, I suddenly found that there was something wrong.. the flash files were ending up with pcm audio instead of mp3, incompatable with youtube. I realized that a month or two ago when I had to reinstall linux something had changed. I looked back at the videos on my website and youtube and all the videos I'd psted since then were actually without video. I suddenly remebered I had to install unstripped libraries for ffmpeg in order for it to encode mp3 audio, but had forgottn this when I reinstalled linux. Once I did, everyhting worked fine. It was really good I discovered this, and I wouldn't if I hadn't done these videos for the open mike. Even though I didn't do my own performances from this show because I am still waiting on the fotage from the other videographer so I can try using two camera angles in the video for once. Still, I also had to reprocess a lot of my own video as well, and I still have to check everything and re-upload to my site and to youtube. I am sorry to think that for at least a month all the video I've uploaded had no audio.
I was also thinking of the video I needed to complete the website. Not just more performance videos, but some good staged videos, and several promotional videos, introducing and explaining the dulcimer, my music, and myself. So I went ahead and assembled some DIY minature stage lighting using small $1.00 flashlights and heavy colored cellophane wrapping for gels. It worked well. Though the first set looked like I was painting the dulcimer for a rasta festival, once I got a second set so I could blend the lights to create a rich white, it worked well. I also had a small soft-white spotlight rigged up. I've done some test shots and it looks good. No smoke machine, though I think about it. I need to shoot these videos because next week I need to set up the xmass tree in that same spot.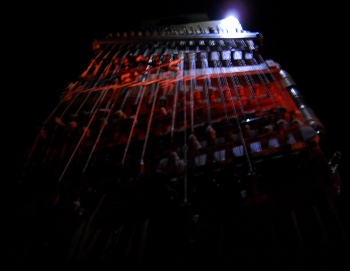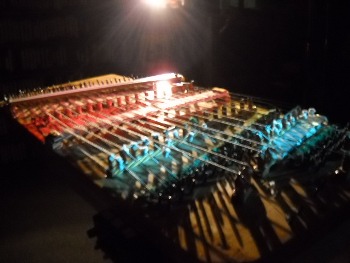 I also started transfering the archive of DV tape to DVD again. Initially, as I was working on the video, I remembered an interview I did on the street in 2004. So I transfered a tape containing that footage, which made me look at some performances, like a jam with a cello player, and even just the story of street performing I was capturing at the time. And all the stories I have in this archive of tape.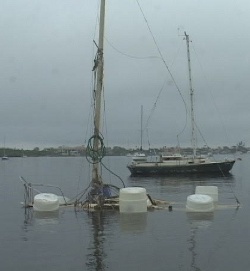 2004 ended with the start of the story of raising the Hurley. So I started transfering those tapes as well, both to continue that process that I've slacked on, and because I thought that making a video of that story might make a good xmass gift. But there was was more material than I had time for, though reviewing even part of the footage took me back. I've done some wild things. And this really was an older idea, to make a video of this tour journal style to go with the couple songs I wrote while I was there.. footqage of which is included in the tapes as well. But now I am in the same problem as before.. hard drives full of footage, wondering whether to try and do something with it now, or just archive it and move on. In fact, half my drives are still filled with 2009 Florida footage I thought I might work with and haven't. Though as I processed a performance from the Florida State Folk festival I thought of finishing the tour journal on it I'd actually started, to go with it. I just can't do it all. Though I enjoy producing video, and I do it well, and there are great stories to tell in the footage I have, but I return to the old queston, what do I have to do right now?
Last Saturday I went to another singer-songwriter workshop. My shoulder was doing a lot better, and I was playing guitar and piano. The theme was love songs, though there was only two of us, the organizer, Tamara, a couple of her guy friends along for company but not singers, and me. It was a cool meeting as we could discuss songwriting more without a big circle to go around. But it was hard as I tried to include everyone, but of course, it was something that really was only of interest to Tamara and me. It was also odd. I had too look at the fact that well, I have never had a love life to write songs about, someone to write love songs to. So most are about hopes and dreams, not the reality. Or the love I have that never was returned, or fell apart before it ever started. Yet for all that, I realized that keeping the hope alive is what hads let me write sso many songs, since that's what most of my songs are about, even still. It is this driving emotion, the frustration and the pain that I put into music, the loneliness and longing, and oddly, it is somethign others relate to, even though most people have more luck than I, they have been there on the way. I just never got there. And then the gap between Tamara, who is just starting out, and I who have been at it so long. Or that despite the fact I never took songwriting seriously or tried to write many, now that I bring them out, people really like them, they stick in their minds. The best thing you can say about a song. Makes me wonder again if my own negation of being a songwriter held back a lot of good work i might have done. But you can't look back. And I wish I had time to be creative now. It is certainly a frustration, beingstruggling to record just what I have done, when my mind is full of music I could do, new thigs, different things.
Yes, time is running out there, so I mixed down and produced a video for xmass presents, though not raising the hurley. It was a nice little ten minute movie I made of us raising and decorating the tree in 2000, then the camera wanders through the tree and all the old and handmade ornaments, then the presents. I used "Little Friend" and "Simple Things" for the soundtrack. As a special feature I added some 2004 footage of me singing my niece to sleep with the same songs my mother used to sing to me and my siblings. It was still moving the whole larger project forward, as I figured out how to produce video under Linux instead of in my windows software. Install and learn to use the nescessary software and the process to chain up the short videos I made in the windows based video studio into continous movies, then assemble them into video DVDs.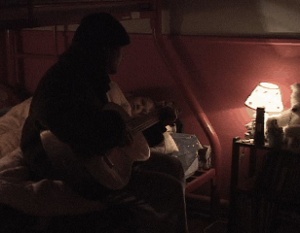 The camera automated transfer software and the best editor are still in my win98 based studio, but it is pre-DVD, though I made the old 2000 video tour journals and SVCDs. I want to move forward to linux-based processing, but hadn't actually done it yet. Now I have. I burned the DVDs today and wrapped them ready to send off this week or put under the tree eventually.
To finish up this story, I returned to the open mike at the Soundry to drop off the DVDs of the video I shot two weeks ago. I didn't even try to bring the dulcimer. I could have probably played, but lifting it and carrying it out was not in the picture. I took the guitar and though it hurt a bit, I was able to play a few songs. It reminds me that I really am a singer, and still stand out even just playing guitar. And funny but true, I played three love songs I wrote. A strange world. It is something that has come up in the recording as well, where it is again about me as a singer-songwriter and the dulcimer takes a back seat. A lot of love songs, then social action next, and everything, even "Little Friend", has a deep message inside it. I also found myself wanting a band sound, as I watched other groups and coupes play together, the full sound of DBG (drum-bass-guitar) and the sound of vocal harmony. I was just full of frustration and longing. I didn't bring the video camera either. Just too much trouble, and I was feeling well, hurt and tired, and nothing to give me energy to make an extra effort. I'll get out to other places closer by to do more video next.. after I shoot some in-house footage. And I need to get that done pronto. I have to get a tree next week. Time keeps moving, but this arm just slows me down, and the constant twinges of pain.. I'm typing this with the sling on and a constant stream of ache and twinge as part of the effort. Sorry for any typos. I'm going to stop and have a some natural painkiller and muscle-relaxant.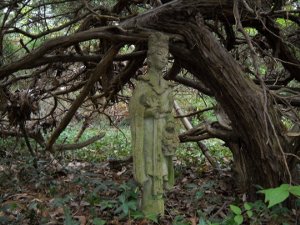 Yeah, red, red wine.. makes me forget… it is still an emotionally trying time.. the stress added to the loneliness. Its funny. As I reflect, there was still a lot of theme with loneliness still. Though I am calming down somewhat. I go to the open mikes and have to face the truth that I am still hoping, still looking for a lady singer, or is at least seriously into music somehow. Or even just art. I was talking to a painter saying that I could imagine finding a partner in any artist, "I'll be your muse if you'll be mine". Saying again how my greatest regret n life is not finding someone, yet if I had known this would be the price of following the music, the path I chose, I would chose it again. Even while I am contemplating the practical usefulness in songwriting of all these decades of hopeless hopes, never accepting the obvious, that it just wasn't happening for me, and being so foolishly ready and vulnerable to those few who can somehow reach me, raise that hope that just won't give up. I was again saying that that was my job, to not give up hope, even if that was all I had the strength to do was keep the door open, without expecting anyone to look in, get some emotional stability in that acceptance of fate, but not give up hope, just expectations,
and well, keep writing songs.
"…Me watching you watching me watching you watching me…".