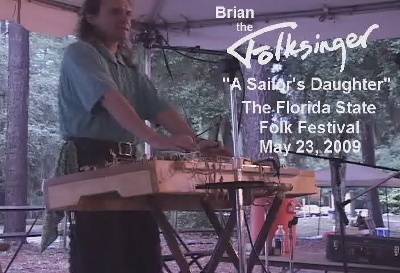 Sailor\'s Daughter
4-23-2009, 3 min 58 sec, 57.5 MB Flash video
Live at the Florida State Folk Festival, White Springs, Florida.
small-screen version available on YouTube
I wrote this song on a passage to Belize. It is a simple true story, and when I got back and played it to a friend who was also a sailor, he said I had it right. This is a dream that haunts many sailors as they sail through the long hours of darkness, when your mind wanders in thoughts and dreams, whether you are sailing free and easy under those incredible stars, or fighting through the sea and storm, dreaming of what you always hope to find somewhere ahead, or sometimes somone you left behind and hope to return to. It is also about the dream of a woman who has the sea in her blood, knows its call, and has lived with it, loved it, feared it, and could understand the heart of a sailor, and stand with him, and take the wheel in her turn, as much a sailor as any man.