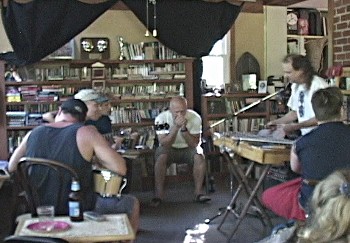 Associated Audio Tracks:
My Little Friend
You Watching Me Watching You
I still haven't had time to re-install Premiere, which is a pain, because I have some nice video clips to share. Though I have pictures, they aren't the same as a true window on the scenes that are part of this life, even when I say I am just in the studio. The picture just doesn't capture all the energy the way video does. Like this jam I had last Sunday here at 1213. A fan in Baltimore brought down a group of musicians from bands up in Baltimore to check out the dulcimer. I'd said that though I was interested in potential collaboration with folks, performing or recording, the best way to start was just to get together and jam and see how it worked. So they came. They brought down some family and some food and it was a nice relaxed scene, which is my style. It was also cool jamming here, and then I'm able to show them all my ducimers and other instruments, the studio, and the pickup winder. Practically, If I don't have to take all the extra time to pack up and go someplace, it is a lot easier to justify the time spent. They did ask if I'd be interested in coming up and sit in on a gig one band has coming up, and I said maybe. I really have to stay focused on the present job, not performing, but I also want to network and look towards the future when I am performing again. I just talked to them on the phone and as expected, the rest of the band was a little leary, as I am about sitting in at a gig with people I don't know. So we looked at my coming up next time to a jam at there place, meet more musicians and all the band members, and also maybe do a gig with one of the guys I jammed with here, in a small cafe-type venue, something easier to pull off to my satisfaction.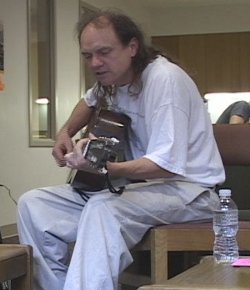 But I just can't get distracted from what I have to do now, the weather has turned cool, summer is gone, and I have barely started on the recording. Actually, I have been working on the music steadily, now. But I am still just getting ready to start recording. Every day I run through the list of songs to record with the guitar, figuring out the exact tempo on the metronome, and getting them back up to speed. Some of these I recorded so many years ago that I can't remember the words any more. I have never been focused on my original material, only as part of the mix. If people want originals, I can play originals. Though I usually play what I've written lately, because they are part of my life right now, and still what they really are, and outlet for my emotional energy, so they are still full of raw emotion, undimmed by time. The song I wrote in late July is one of them now, this picture is me singing it a songwritier's circle. It is turning out to be a good one. Though it is always interesting how it keeps evolving as I play it. How just changing one word changes the meaning of the the whole song. And how I am still trying to decide exactly what I want to say.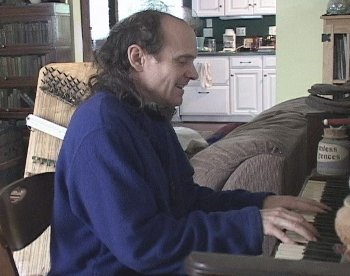 I am also digging out songs that I wrote long ago but never bothered to get up on the playlist at the time, maybe because I had plenty of originals right then and didn't need more, or maybe things happened and I filed it away and forgot it. Songs are like dreams, somehow you don't remember having them, though they aren't forgotten. I have to write them down immediately, and even then, soon I've forgotten I've written them, unless I start playing them. Some of these are songs are complete and ready to go. I'm often suprised at how really good they are, as I sit at the piano, figuring out the chords again, since I didn't always write that down, though the melody is still clear in my head even years later. Here I'm playing 'My Little Friend' for the first time, working out key and chords form the melody in my mind. Over the last week I've been playing it regularly as part of the list, and I've included an mp3 in the music files here, recorded as I also start getting used to the equipment again, running mixer and mikes and PARIS again.
Recording a song only takes minutes, the hard part is preparing, somehow building up to those few minutes so that they are great, or you end up with endless takes, but not a great one. I am still not sure how to do it, or even if I can as a conscious thing.
I also am thinking about arrangements. These CDs are about the songs this time, not about the dulcimer, so it isn't center stage now, yet it is part of what I do and should be there. It would be silly to just play guitar, though I will have some songs with just guitar, but I can also have ones with just the dulcimer. I even think of using the piano for some. I need a sort of regular backup ensemble, or several, with the guitar and dulcimer, then add soe eprsuccion like hand-drums, and then lead instruments like guitar or flute. It is the songs that need to stand out as individual, not the instruments, which should be a more standard, common backdrop, though whatever supports and displays the individual song best. Like Gypsy Lullabye, should I have just finger-style guitar, or strummed, or a combination, and should I keep the flute I added to the video?
I also want to have more songs than I need, so I have a wider choice of what songs to include on a CD, and to follow the one before, to create a mood and consistency, and hopefully, tell a story, weave and connect threads and themes between them. I have at least a hundred more unfinished songs as well that I could finish, like I did "A Gypsy Lullabye", which turned out really nice after I sat down and hammered it out.
I think I have intentionally shied away from songwriting, or more, from being a "songwriter". Both because I was a folksinger, and I wanted to play the songs people knew, the folkmusic from the oldest to the newest. As a social activist, it seemed more effective to play the songs people knew and would echo in their heads the way something unfamiliar wouldn't. Also the dulcimer was a new instrument to their ears, hard to follow, and a familiar song helped them follow the words and melody. Though I know it was also simply that I am a shy person, and one way to deal with being up on stage was not to focus on myself, as a songwriter, or on a song I had written, but keep the focus on the music. I also always hated the egotism that runs in showbiz, so I wanted the focus to be on the music, not on me, that's why for years I just went by 'the Folksinger', because my name didn't matter, just the music. It wasn't about who I was, but only what I was, Brian the Folksinger.
And I am still dealing with distractions, balancing the main project against all the things that have to be done, or maintained. Like finishing patching the roof of the house one day. Though it's not all bad, some distractions are major accomplishments I am glad to get done. Like I finally found a used car for ma, just what she wanted with enough miles to be in her price range. We'd been waiting a couple months, finally located it up in Connecticut, had it transfered here. And just in time. Less than a week after, the day of the jam session, the rear brake on the Toyota, which had been leaking fo a while, finally seized up. I knew it would, and had just been hoping it would last till we found a car for ma, since she was using the Toyota. I am so glad it made it. I could always drive the van, though it eats fuel in town, but it is a bit hard for ma to drive.
I ordered a new 12 volt amplifier to replace the one I broke in St. Augustine. I got the latest version of the same one I had that worlked so well for so long. It is a Peavy 'Solo' (the old one was a 'Companion'). This new one has been improved with a second input and an xlr input. But it came with no cables, just a 12V input jack in back. So I did the same adaptations I did on the old one, removing the battery holder from the back, and replacing it with a 120V to 12V transformer so I could plug it into the wall as well, and added a set of cables with battery clips on the ends to hook it up to a regular rechargable battery. I use a small one for a riding lawnmower or motorcycle. I ran both cables to a switch, so that I don't have to worry about whichever cable was not being used getting loose and shorting out the other, since only one could be 'on'. I like the peavy, it has a nice clean sound in a portable amp, what I want for vocals, and it was tough. My first one didn't break, I broke it in a perfect accident where I dropped the input cable when plugging in the dulcimer, and it bounced just right to go under the gear cover and hit the positive terminal of the battery. Maybe I can fix it one day, but in the end, these 12V amps are integral to what I do, on the street or at a festival, or onboard a ship. So it will be ready if I want to go play somewhere. And I do need to think about it, practically. This is not going to be a good year financially.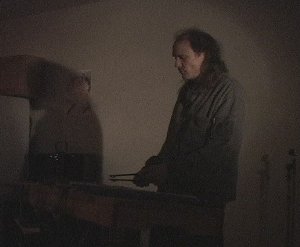 I have been getting out a little, trying to network with local groups, and work with Jane Chua, the promoter. I have made some good connections, and know I have to look ahead to when the recording project is finished, for now. But I am always feeling time slipping away, and what was supposed to be the most important project, the new CDs, still undone. Though I need to get out and play, keep the energy going. It is too easy to get in here and let my energy drop. It is a bit of an emotional strain as all these songs, both the new ones and the old ones, stir up all these emotions, again, bring back memories. Its good to get away and out among people in the here and now, who know nothing about things that happened long ago or not so long ago. I can't dwell on the past, but of course, the songs bring things back too clearly sometimes, and they are all about feelings, a way of letting out those feelings, expressing the hurt in a positive way, making beauty with the pain. After a while though, I get emotionally raw, overwrought and crazy, and I need to take a break. Luckily I also have some simple, sweet song like 'My Little Friend'. though oddly enough, even that choked me up sometimes. There is something deep there, singing about childhood, certainly, which is what makes it a good song. Or maybe it is personal regrests that I was never able to find a woman, a mate, and raise children of my own. Or just that in the reality of the storm of emotions within me, tears are too close to the surface sometimes.
"but I've got a little friend, who takes me by the hand, and says 'come on don't you see?'"