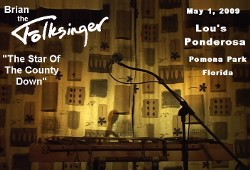 The Star Of The County Down
traditional, live at Lou's Ponderosa 5-1-09, 2 min 39 sec, 16.3 MB Flash Video
The Star of the County Down
A Celtic traditional, another love story song, and I can relate to it, surely. I grew up with this music, my brother formed a Celtic band, though I went more modern, but maintained my traditional roots as well. Though I was always a singer, into the beautiful Celtic balladry, whether haunting melodies or driving, sad or with that wry touch of humor that is so part of it all. Great stuff, and I hear these melodies in the roots of so much modern music.
I was playing this a lot at this time, though it has long been a favorite. Perhaps because I was playing at O'Malleys each week, or because I'd met a girl in town. But there are times when a song, even a long played favorite, really gets up and dances.
I'm getting warmed up a bit after the few mellow tunes I started out with, and I'm ready to start pulling out the stops and letting the hammers fly. I like the clear traditional rhythmic style here, that I can emphasise with the dulcimer as a percussion instrument. There are Celtic rhythms , like the melodies, at the roots of so much modern music. Perhaps because it is at the root of the American Appalachian mountain music that is at the roots of so much modern American music, like bluegrass, country, western, blues and rock.